Media
MixEffect supports listing the names of your stills, clips, and audio clips in the Media Pool of your ATEM switcher.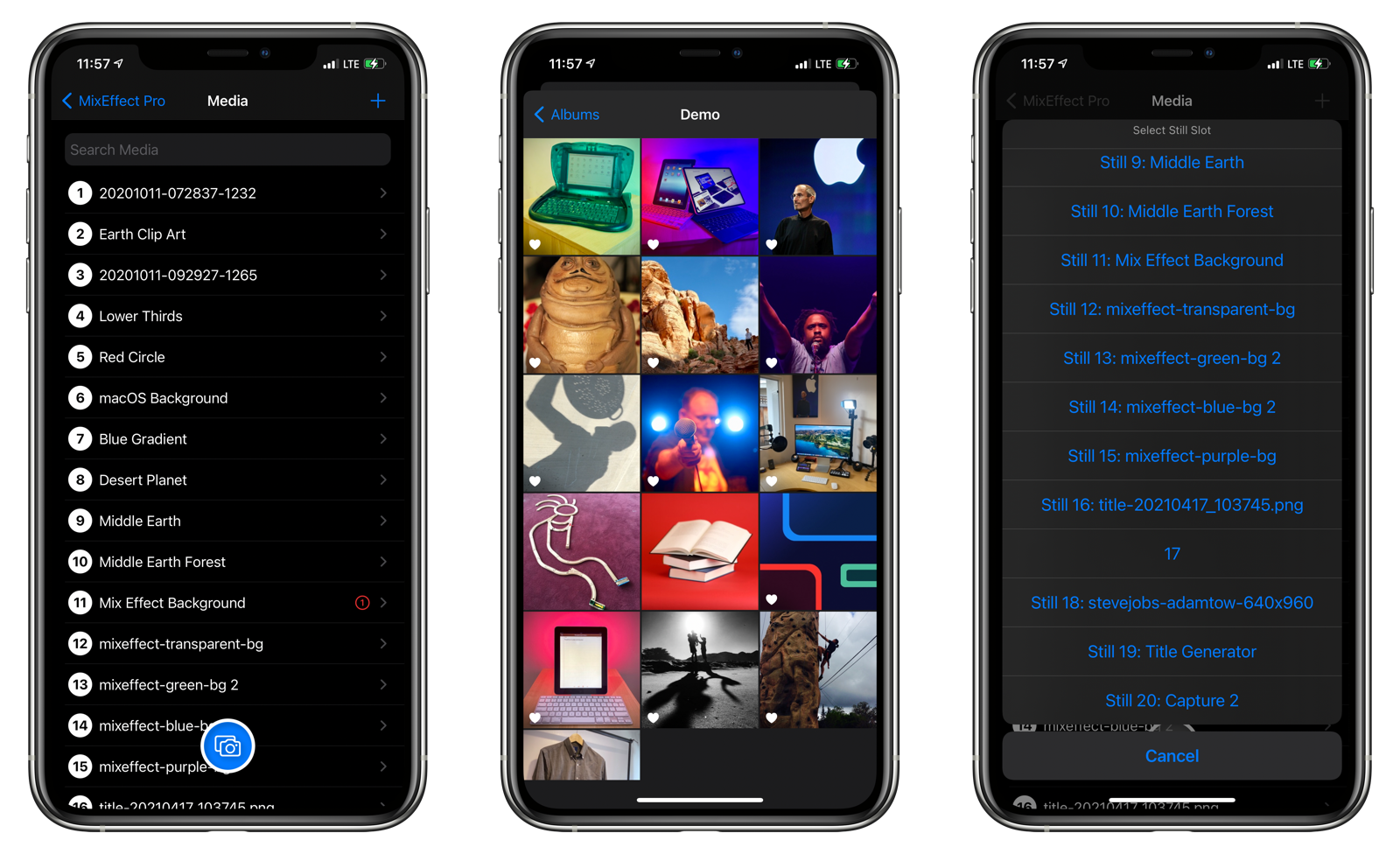 You can set the current still or clip in your Media Players by performing one of the following actions:
Long-press on a media item and choose the Set option for the desired media player.
For stills, tap on a still list item and tap the Set button for the desired media player.
On iPad, you can drag and drop a media item into the set buttons at the top of the page.
From the Switcher view, long press on a media players space button and choose the clip or still that you want to use from the action sheet.
---
Capture Still
The circular button at the bottom of the Media page allows you to capture the current program output as a still image in your Media Pool.
This button is only available if your switcher:
Supports saving a photo from the Program output to the switcher
There is an empty still slot in your Media Pool. If all slots are being used, the button will be grayed out and disabled.
---
Uploading Images
MixEffect allows you to upload images as stills to the Media Pool from your Photo Library.
Tap the + button. You can also press Command-N on an external keyboard.
Select the photo you wish to upload.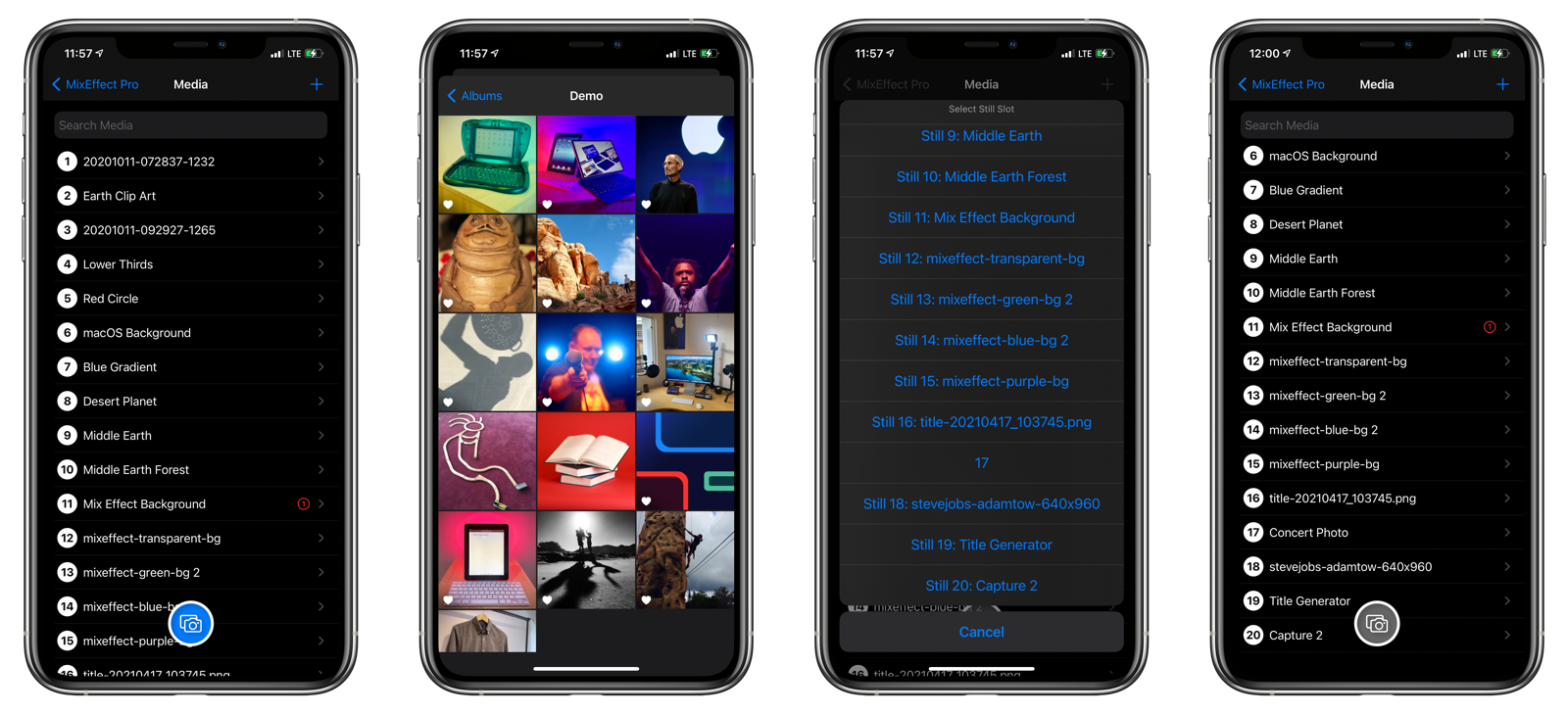 Images will be resized to the same size as the Video Mode for the switcher. For the ATEM Mini line of switchers, your images will be resized to fit within a 1920x1080 box.
NOTE: Uploading of images has been tested on the ATEM Mini Pro set to 1080p. Testing has not been conducted on those ATEM switchers that support SD, 4K, or 8K resolutions.
IMPORTANT NOTE
In rare instances, the ATEM switcher cannot handle the uploaded image and reaches a state where you have to reboot the switcher (unplug and re-plug).
Because of this, an alert will appear each time you try to upload an image. Tap Don't Show Again to dismiss the warning in the future.
---
Alpha Channel Support
Currently, the alpha channel of uploaded images is stripped from the image before being uploaded to the ATEM switcher's Media Pool.
A future version of MixEffect will support preserving alpha channels.
Renaming Stills
Tap on a still to bring up the Still detail page. Tap on Edit Name to change the name of the still.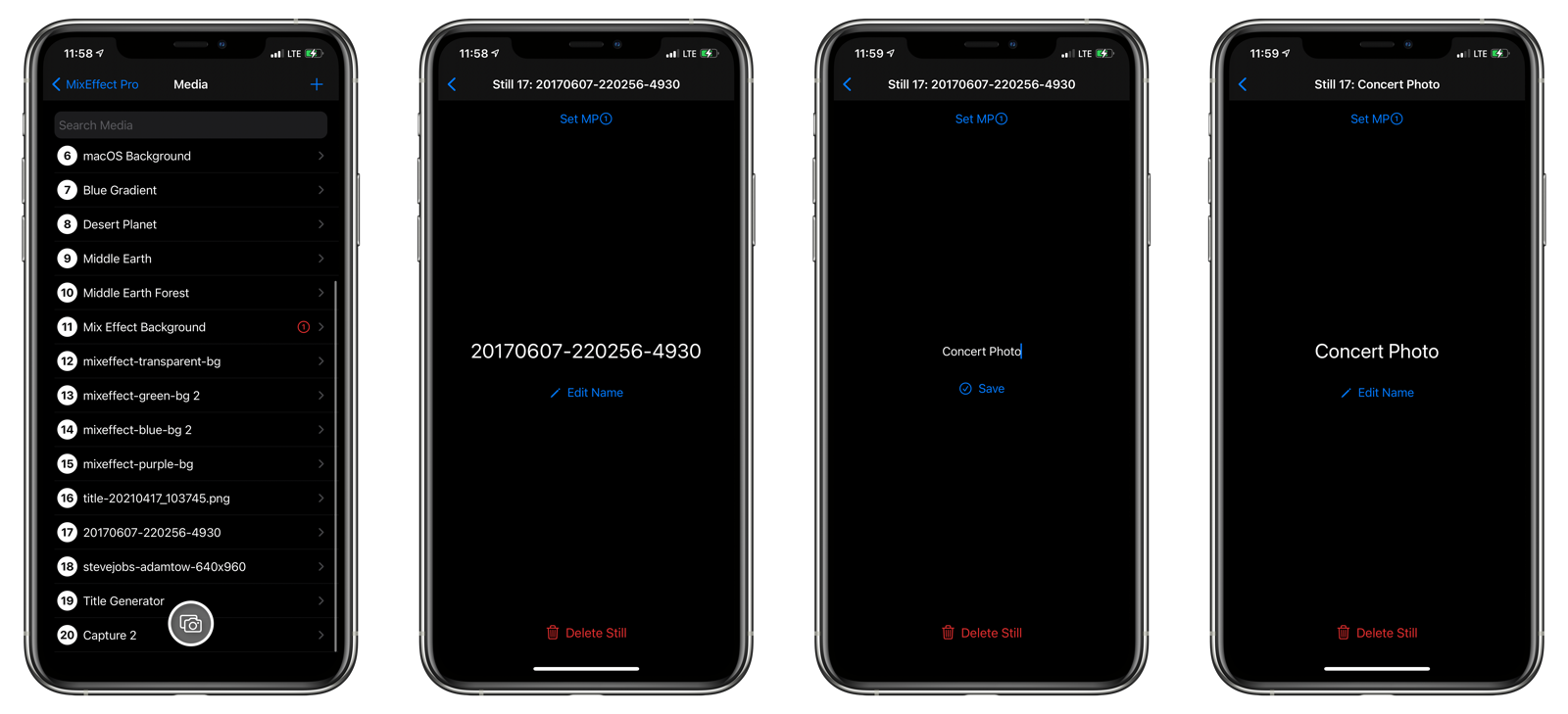 NOTE: Still images seem to revert back to their original filename when a new controller (MixEffect, ATEM Software Control, etc.) connects to the switcher. It is possible this happens because the switcher is re-reading the file stored in its non-volatile memory.
---
Viewing Stills and Clips
Currently only the name of a still or clip is displayed in MixEffect.
---
Playing Back Clips
If you have assigned a clip to a Media Player, you can play it back from the Media Players panel in the Switcher section.