Switchers
MixEffect can connect to most ATEM Switchers running version 8.5.x of the ATEM software.
When connected, you have nearly total control over the switcher. It's like having the complete ATEM Software Control app on your iPhone or iPad, with features and usability enhancements that can only come from being on a mobile-first environment.
---
Add a Switcher
You can add a new switcher to MixEffect by following these steps.
Go to the MixEffect Home.
Tap the + button.
Tap New ATEM Switcher.
Enter a name for your simulated switcher (e.g. ATEM Mini Pro).
Enter the IP Address for the switcher (e.g. 10.0.1.50. This is the same address you use in the ATEM Software Control application on macOS and Windows.
Tap Add.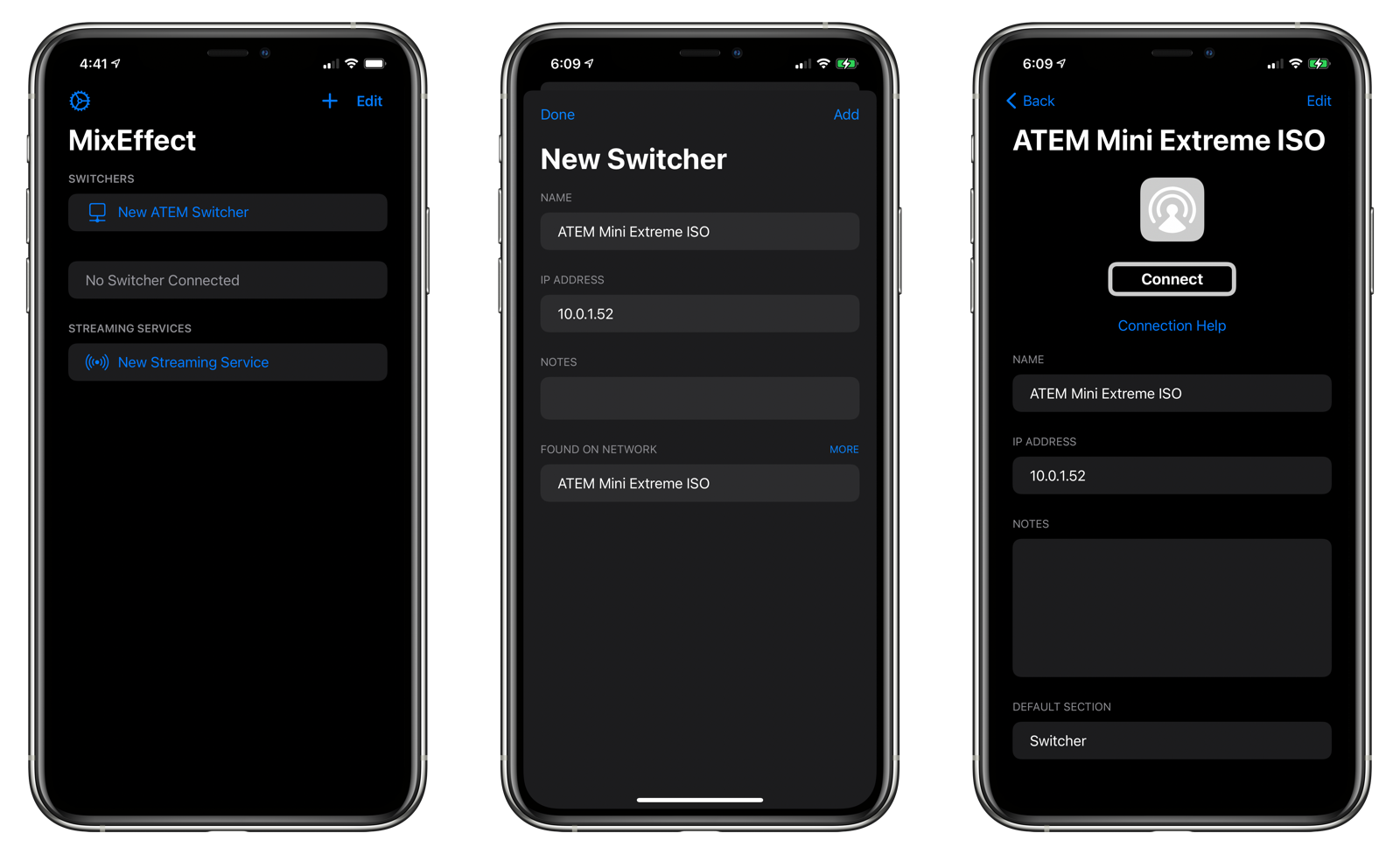 You can add multiple switchers in MixEffect, even to the same switcher. Create sets of switchers that have different settings depending on the project you are working on.
Discovering ATEMs on the Network
Newer version of MixEffect automatically try to discover ATEM switchers on your network. In the New ATEM Switcher sheet, a list of switchers found on the network will appear. Tap on one to populate the name and IP address fields.
NOTE: Some ATEM switchers may appear in the list but are unable to connect due to the fact that MixEffect and the switcher are on different networks. Refer to the Connection Help section for troubleshooting tips on how to connect your ATEM switcher to MixEffect.
---
Default Section
Tapping on the switcher image from the detail page will take you to the default section defined for the switcher.
You can change this section by editing the switcher and closing a new default section in the drop-down list.
NOTE: The section list may contain sections that stewed not supported by your switcher. Make sure your switcher supports the feature backed by your choice or you may see a blank screen.
---
OSC
You can control MixEffect from Companion or any app that supports sending of Open Sound Control (OSC) messages. Refer to the documentation in the OSC section for more details.
---
SuperSource Macros
If you have an ATEM switcher that supports SuperSource, you can instruct the switcher to run a macro when entering or existing a MixEffect SuperSource preset. This powerful feature allows you to configure exactly how your switcher should be configured when transitioning between presets. Learn more about this feature in the SuperSource section.
---
Connect to a Switcher
Connect to a switcher by following one of these two steps after confirming that your switcher is powered on and available at the designated IP Address:
From the MixEffect Home, tap the gray connect symbol to the left of the switcher name for the switcher you wish to connect to.
Or, tap on the switcher's name to bring up its Detail Screen. Then, tap Connect.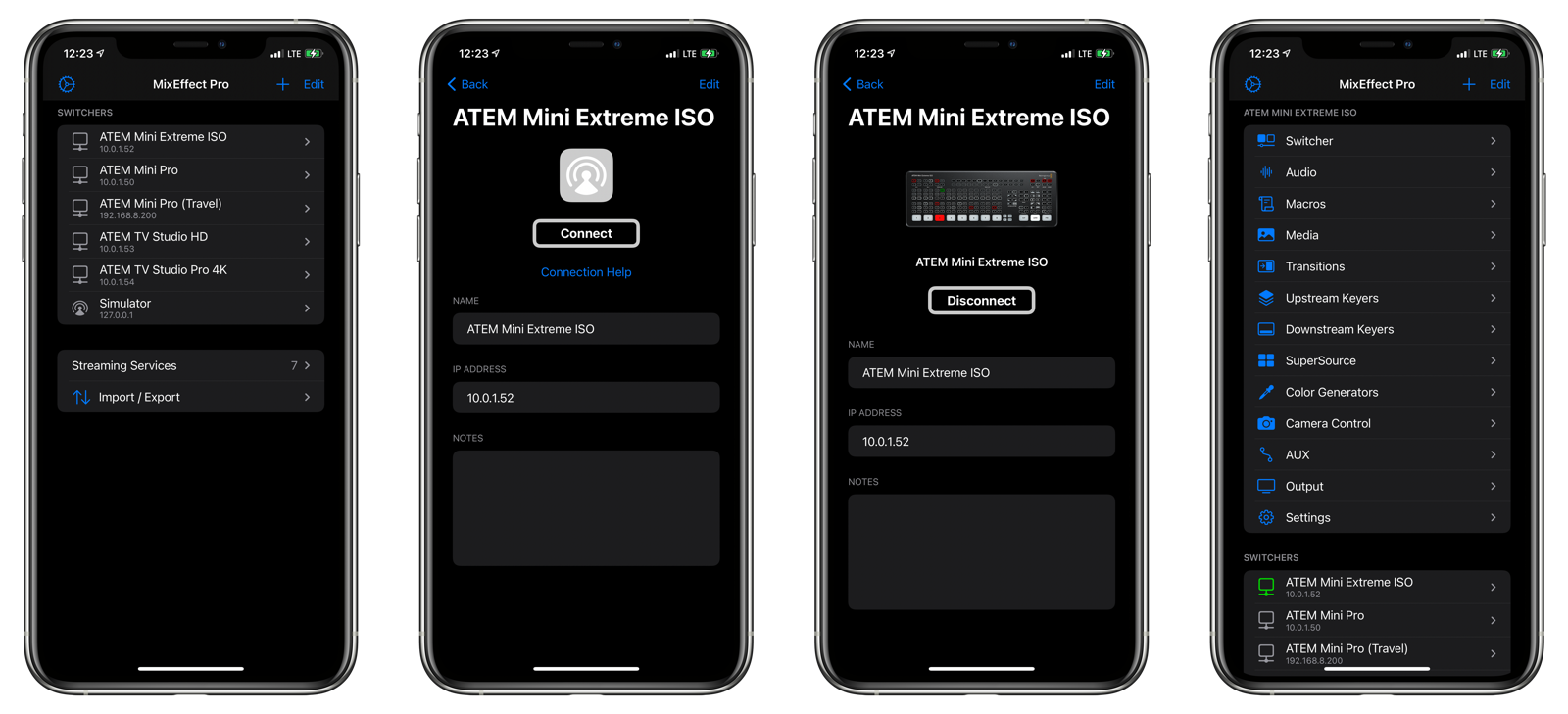 Once you are connected, you can tap on the image of your ATEM switcher to go directly to the default section specified by your switcher. Or, tap the back button in the upper-left to return to the MixEffect Home.
---
Switcher Usage
When connected to a switcher, a list of available features will appear above the connected switcher. For instance, when connected to an ATEM Mini Extreme ISO, the following options will be shown:
Click on the links above for specific details on using each feature.
Rearranging and Removing Sections
Tap the Edit button in the upper-right corner of the switcher sections section to reveal editing controls. You can drag and drop the switcher sections according to how you want to use. You can also remove a switcher section from the list.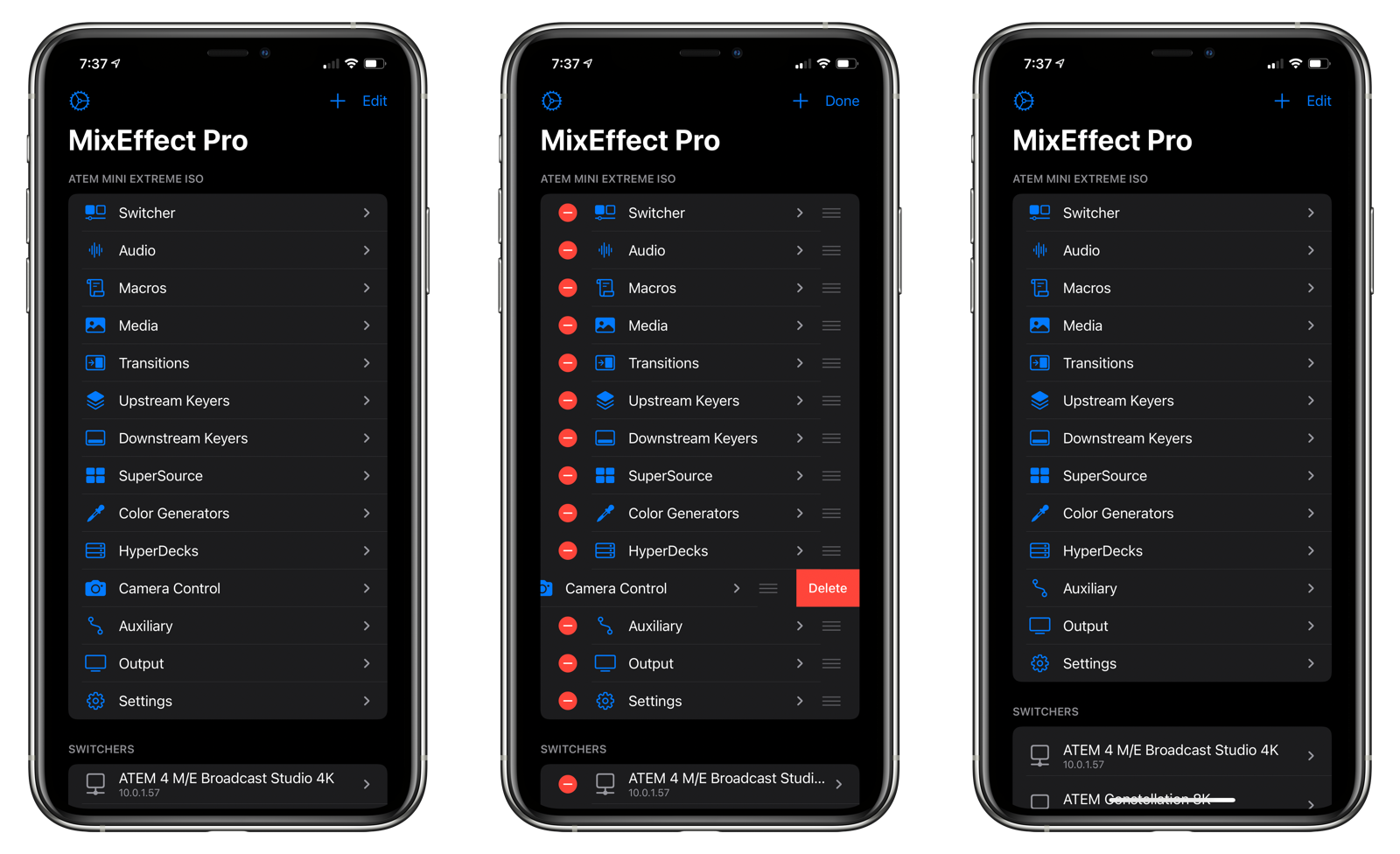 To reset the switcher sections to their default values, go to the Switcher Detail page for your switcher and tap Reset Layout.
---
Conditional Features
Some features are only supported on certain ATEM switcher models. For instance:
Live Stream and Record Stream: ATEM Mini Pro, Pro ISO, Extreme, and Extreme ISO.
SuperSource: Switchers that support SuperSource, such as the ATEM Production Studio 4K, Constellation, Mini Extreme, and Extreme ISO.
Camera Control: Currently available on ATEM Mini switchers that communicate with compatible HDMI cameras such as the Blackmagic Pocket Cinema Camera 6K.
---
Switcher Interface
Tap on Switcher to be taken to the main interface for controlling your ATEM switcher.
The Switcher interface is composed of buttons, panels, and pages:
---
Button
A button looks like a physical switcher button in the MixEffect interface. It can perform a number of operations:
Send a command to the ATEM switcher to perform an operation.
Display a menu when pressed.
Display a context menu when long pressed.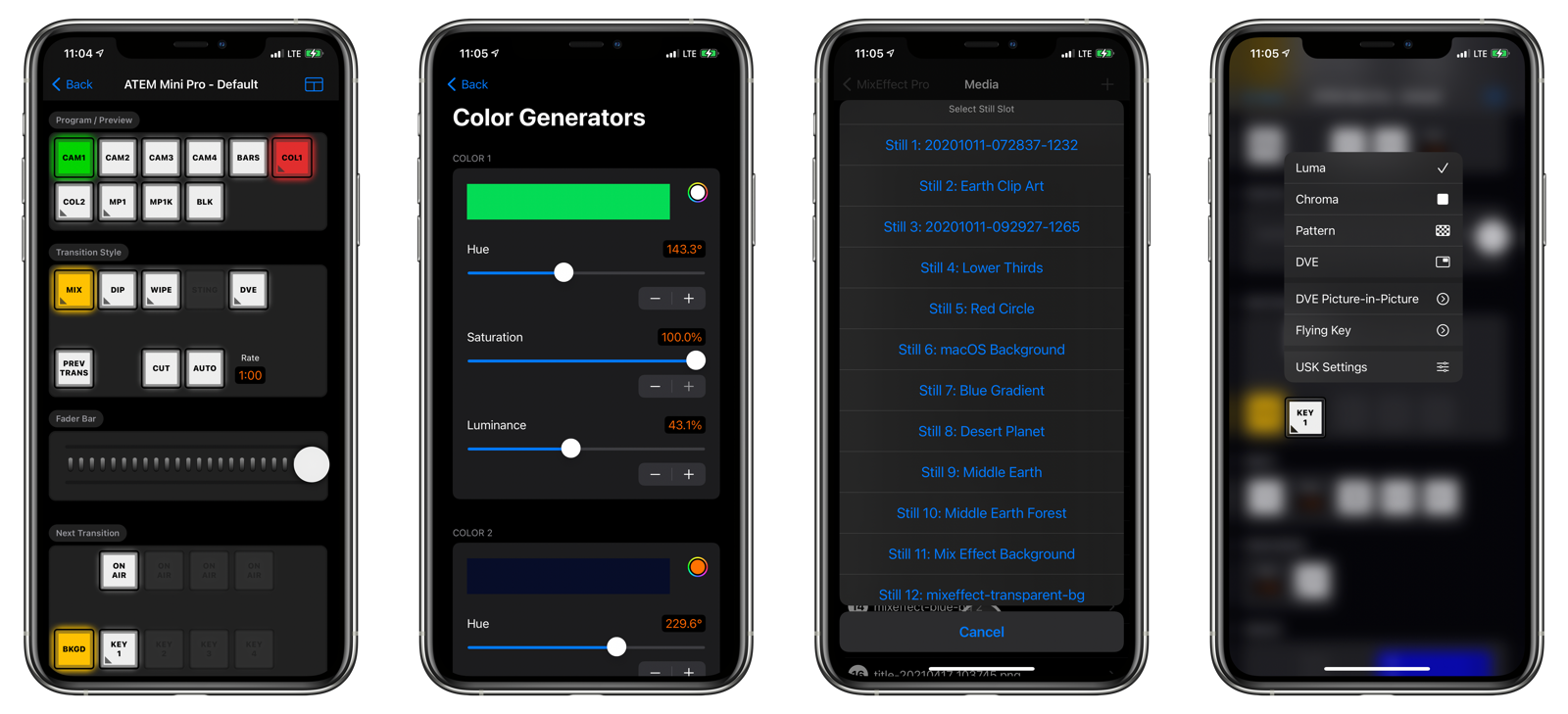 How a button operates is indicated by the following visual affordances:
Inactive: Button appears white. Tapping on an inactive button will not perform an action.
Active: Button is colored red, yellow, or green. Tapping on an active button will perform an action.
Disabled: Button appears gray and cannot be tapped.
Blinking: Refer to the documentation for your ATEM switcher regarding the meaning of a button that is blinking. For instance, a blinking FTB button means that Fade To Black is currently active on the Program output.
Popup Menu Available: A small triangle appears in the upper-right corner. Tapping on the button will display a menu or sheet.
Long-Press Available: A small triangle appears in the bottom-left corner. Long-pressing the button will either perform an action, display a context menu, or display a sheet.
---
Panel
A section related to a particular feature on your ATEM switcher. For instance: the Program bus, Next Transition, or Downstream Keyer.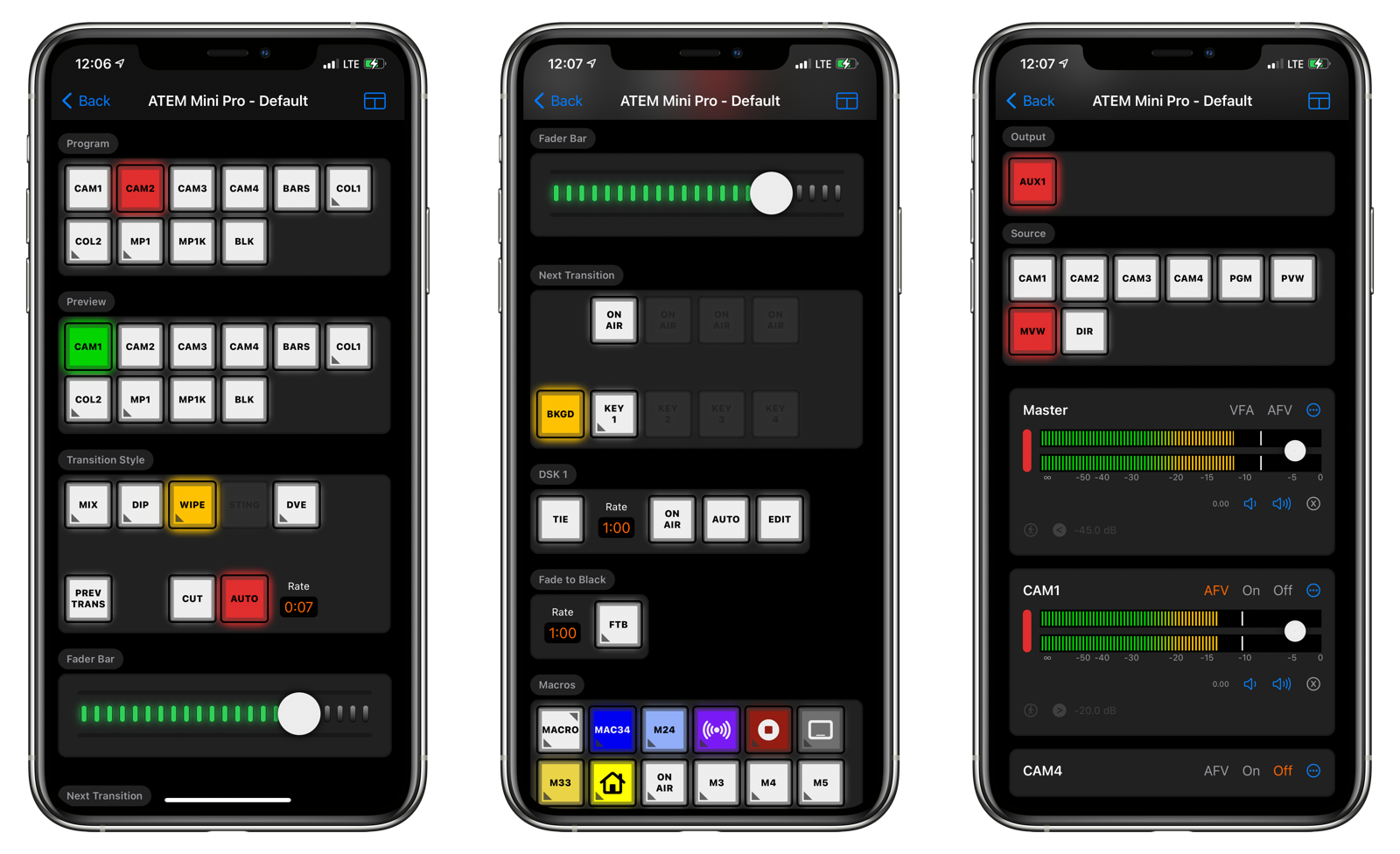 If you have used Blackmagic's ATEM Software Control on macOS or Windows, some of these panels will look familiar.
Learn more about buttons and panels here.
---
Page
Pages are collections of panels arranged in a particular layout.
MixEffect comes with three different layouts for organizing your panels and buttons:
Portrait: Used on iPhones in portrait orientation and iPadOS in half-size and compact Split View and Slide Over mode. Panels are displayed in a single column.
Landscape: Used on iPhones in landscape orientation. Panels are laid out in a row, two columns, row format.
iPad: Used on iPadOS in full screen mode. Displays a row of panels, followed by two columns of panels. It ends with another row of panels. A thin sidebar flanks the two columns and bottom row.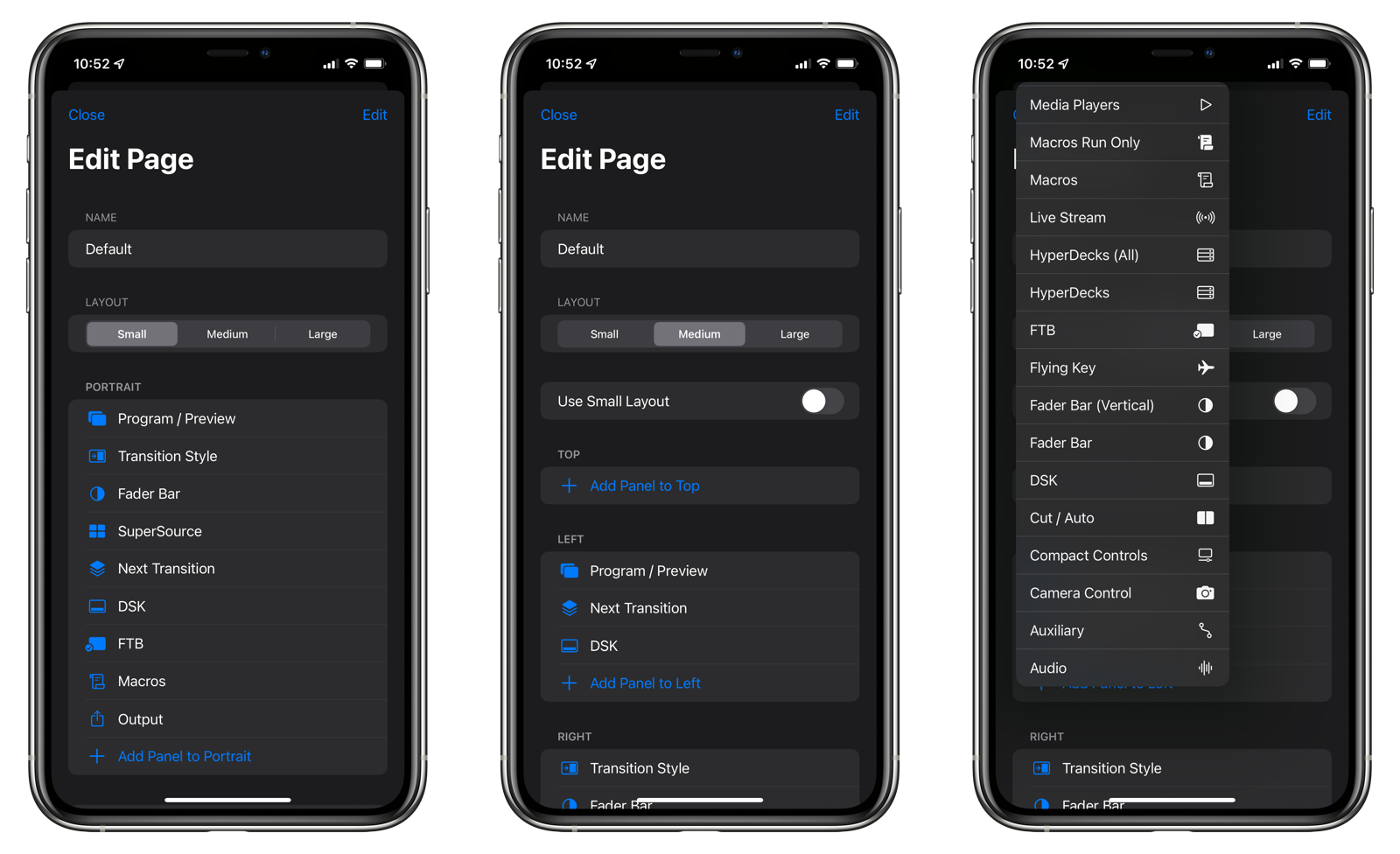 ---
Mix Effects Bus
If your ATEM switcher supports multiple mix effects buses, a segmented picker will appear at the top of the screen allowing you to select the current M/E bus you wish to control. Buttons and panels that are tied to the currently selected M/E will update when you switch buses.
---
Customization
With MixEffect Pro, you can customize which panels appear in which layout by adjusting a switcher's Page settings. Learn more about Switcher Pages here.