Switcher Settings
You can modify settings of your ATEM switcher by tapping on Switcher Settings from the MixEffect Home when connected to a switcher.
The following settings are currently available for editing:
Switching Mode
Auto Video Standard
Video Mode
Media Pool
Audio
Multiview
Source Labels
HyperDeck
Delete All Macros
Save Startup State
Clear Startup State
---
Switching Mode
By default, ATEM switchers added to MixEffect operate in Program Preview mode. Tapping on a button in the Program panel will cause an immediate cut to that video source. Use the Cut and Auto buttons to transition to either cut directly or transition to the source in the Preview panel.
You can change the switcher to use a Cut Bus. Doing this will add a long-press action to the Cut and Auto buttons, which will change the way pressing buttons in the Program panel operate. If Cut is selected, pressing a program source will cut to that source. If Auto is selected, a transition will occur between the current source and the selected source.
When Cut Bus is active, the current mode will be highlighted in yellow. Long-press on the Cut and Auto buttons to set the Cut Bus mode. A single press of the Cut and Auto button will cause a cut or auto transition to occur respectively.
---
Auto Video Standard
Sets the ATEM switcher to automatically determine its video mode. This feature will not be displayed if your switcher does not support this feature.
---
Video Mode
Sets the video output mode of the ATEM switcher.
An alert will be displayed before changing the video mode informing you that items in the Media Pool may be cleared when switching video modes.
---
Media Pool
If your switcher supports clip playback, you will be able to adjust the number of frames assigned to each clip in the Media Pool section.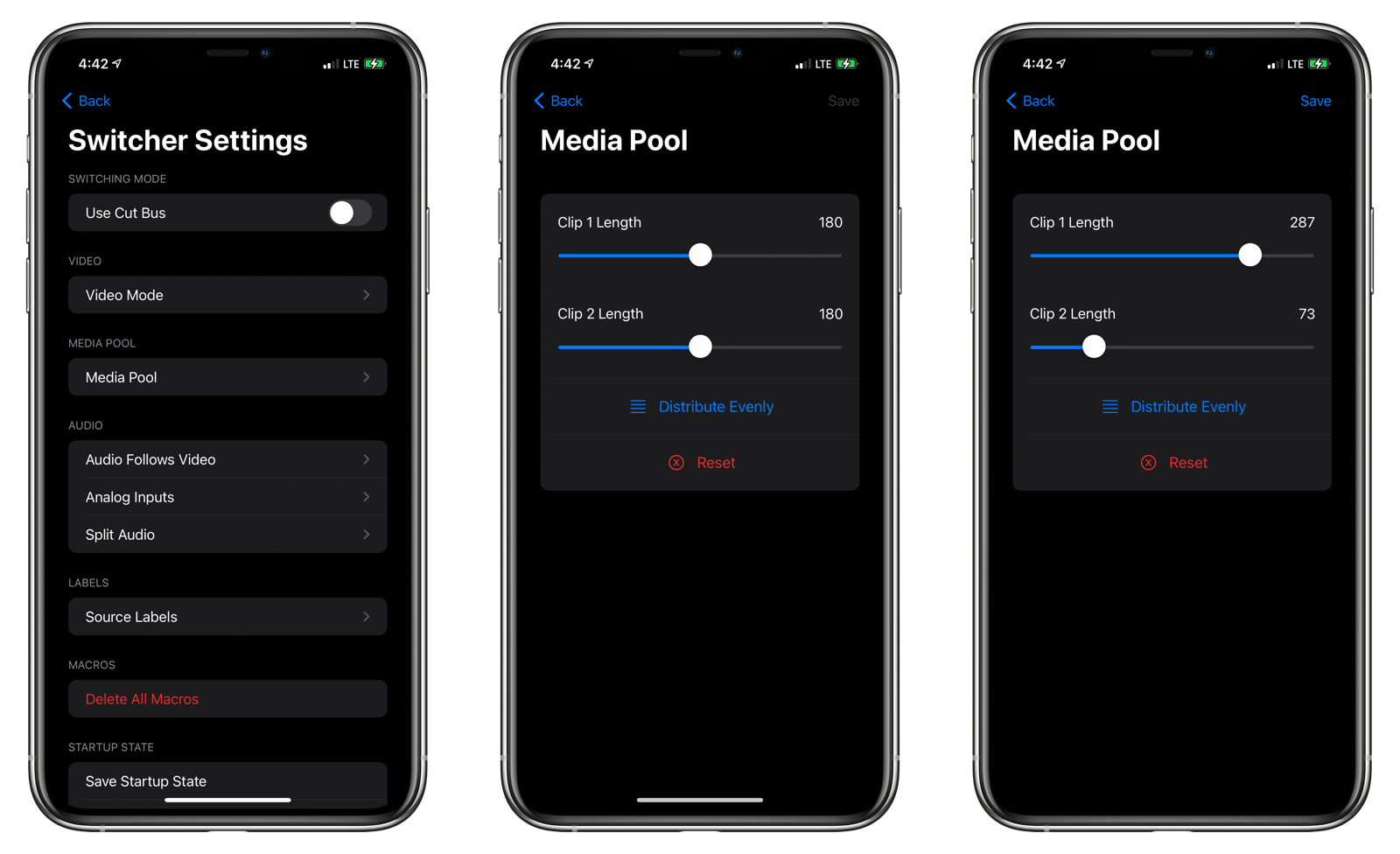 ---
Audio
You can configure audio settings for your switcher by going to the Switcher Settings section.
Split Audio
If you have split audio from an audio source, the left and right channels will appear as independent panels in Audio. All the settings that could be changed across the stereo pair — input gain, frames delay, pan, etc. —will now be available on each channel.
You can split audio for an audio source in the Audio section of Switcher Settings.
Connect to a switcher.
Tap Settings in the Switcher sections list.
Tap Split Audio.
Check or uncheck the audio sources you want to split or combine.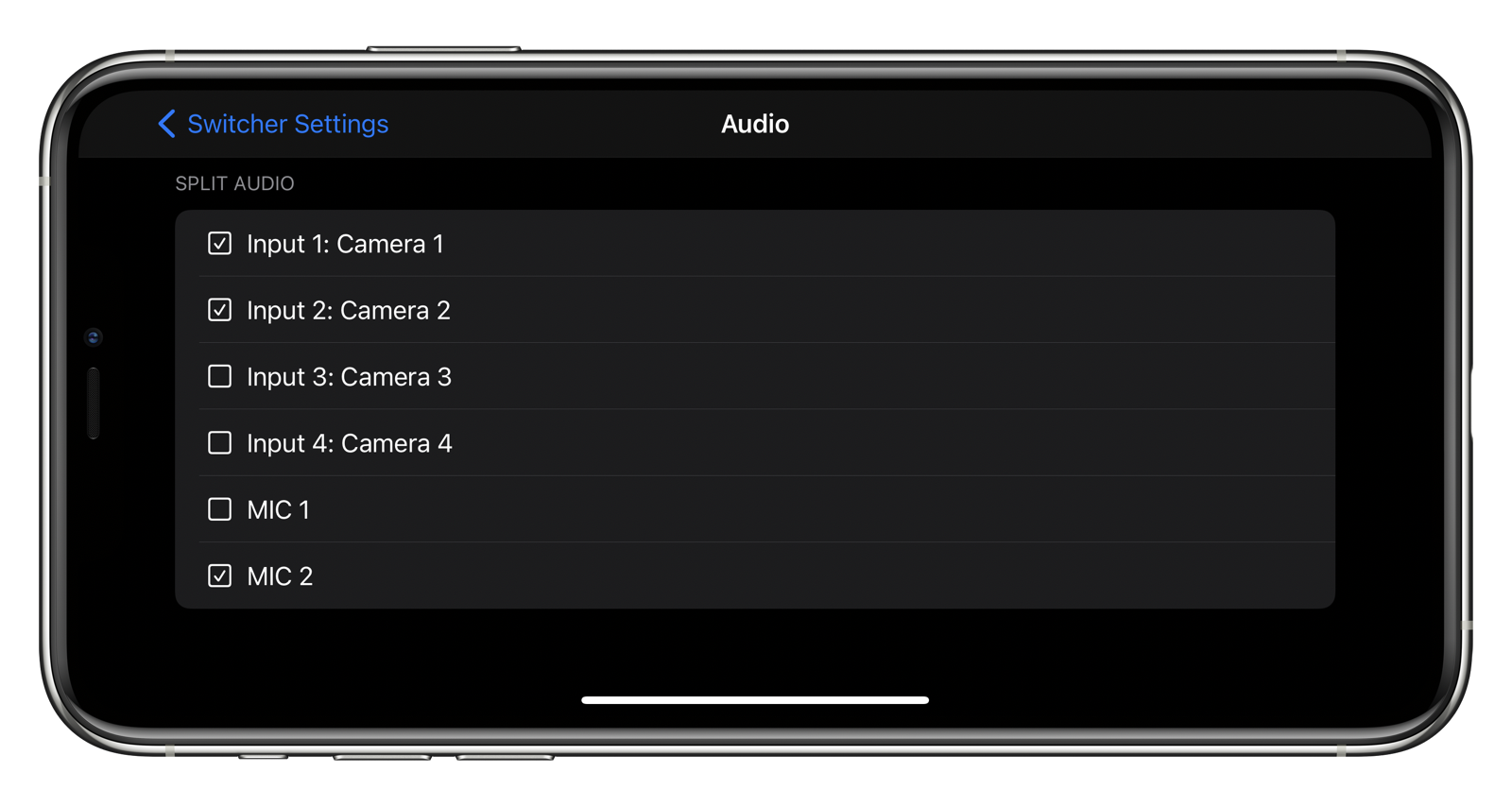 ---
Audio Follows Video
You can have your switcher perform either a hard cut of the audio or add a transition when switching.
Connect to a switcher.
Tap Settings in the Switcher sections list.
Tap Audio Follows Video.
Choose your preferred setting.
---
Analog Inputs
Some switchers can adjust the settings of their analog audio inputs.
Connect to a switcher.
Tap Settings in the Switcher sections list.
Tap Analog Inputs.
Adjust the settings of the switcher's analog inputs.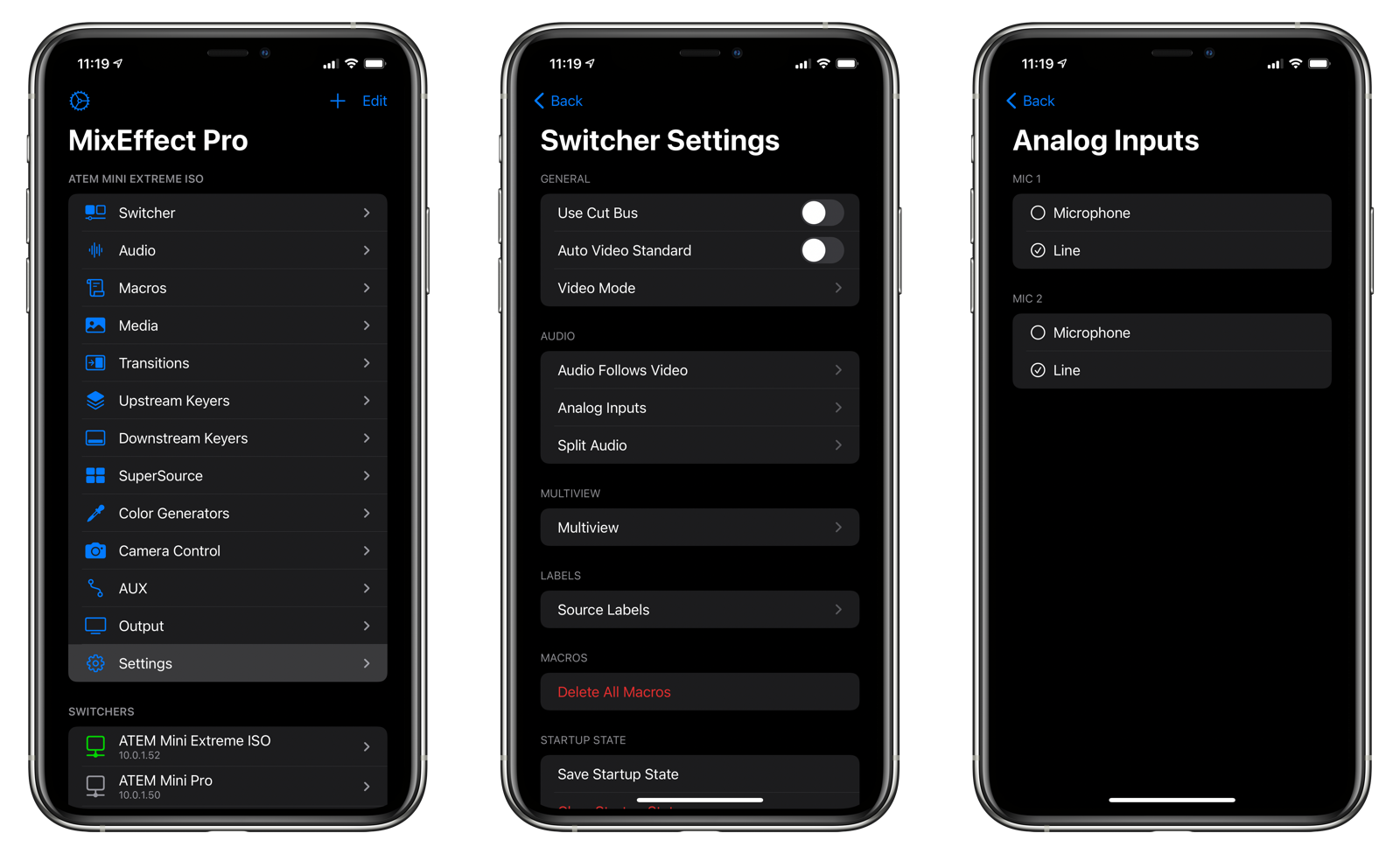 The screenshot above shows how you can switch between Mic and Line input on the ATEM Mini Pro.
---
Multiview
You can adjust most Multiview settings in MixEffect, including:
View Control
Audio Meters On/Off
Opacity
Window Input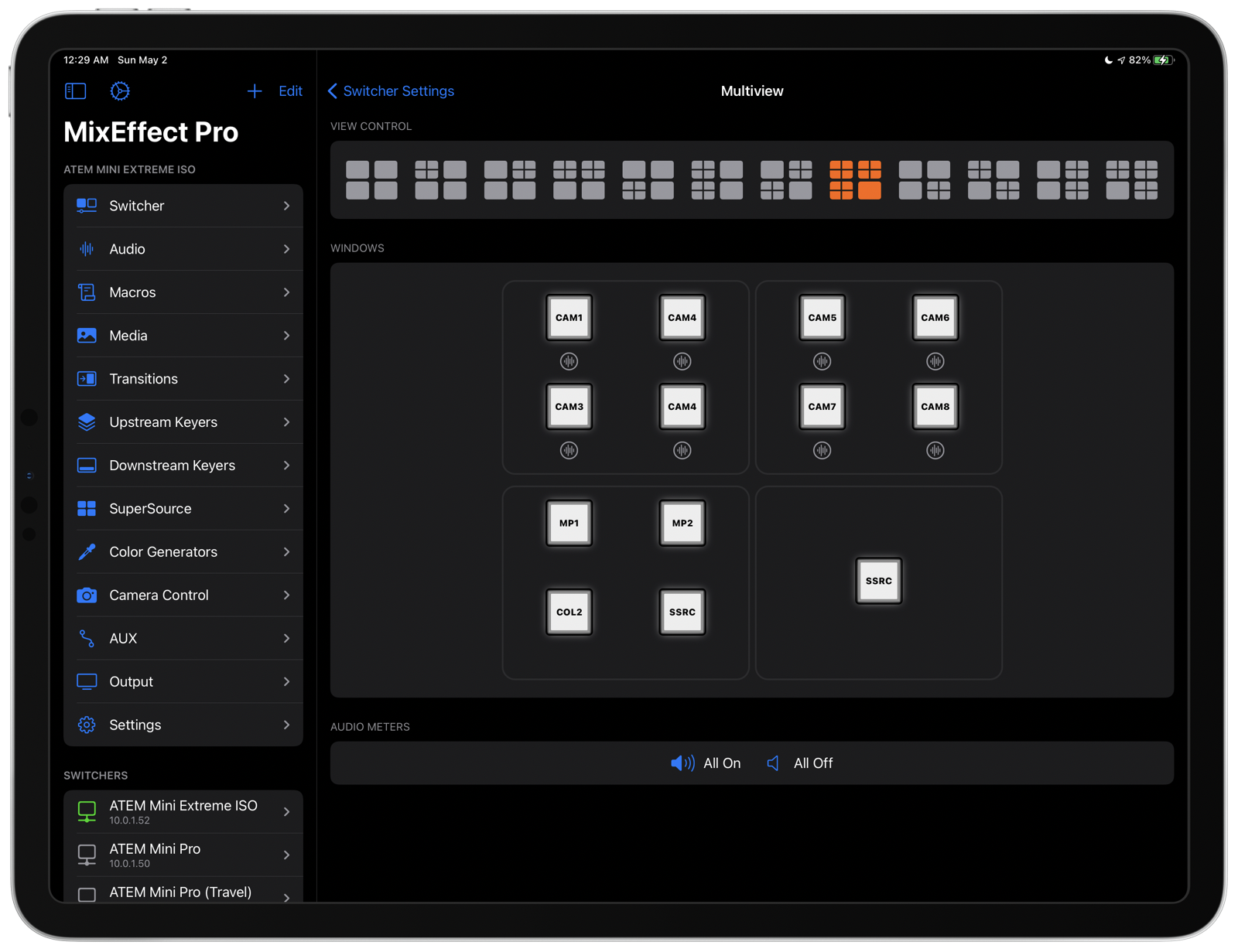 View Control
Change the layout of the Multi View by tapping on the desired layout. This open only appears if your switcher supports changing layouts.
Audio Meters On/Off
Tap to enable the visual audio meters on all windows.
Opacity
If your switcher supports it, a slider will appear below the audio meter toggle.
Window Input
Tap on the input for each window that you want to change. Select the source that should be displayed in the Multiview.
---
Source Labels
Change the labels shown in the Program, Preview, Select Bus, and Aux switcher panels, along with the source popup menus shown throughout MixEffect.
Name: A string no longer than 44 characters.
Label: A string no more than four characters long.
Tap Reset to revert the source name and label back to its original settings. Tap Save to save your changes back to the ATEM switcher.
---
HyperDeck
You can control up to four HyperDecks from within MixEffect. Refer to the documentation in the HyperDeck section for more details.
---
Delete All Macros
Tapping this button will ask you twice if you want to delete all used macros in the currently selected switcher. This operation cannot be undone if you choose to delete your macros.
---
Save Startup State
Saves the current state of you ATEM switcher to its non-volatile memory store. When you turn off and on, your ATEM switcher will be restored to the exact state where you last saved its settings.
---
Clear Startup State
Returns your ATEM switcher back to its factory settings.