MixEffect Documentation
This is the documentation for MixEffect and MixEffect Pro, the professional tool for controlling Blackmagic ATEM switchers from your iPhone or iPad.
Learn how you can manage your live productions confidently with MixEffect!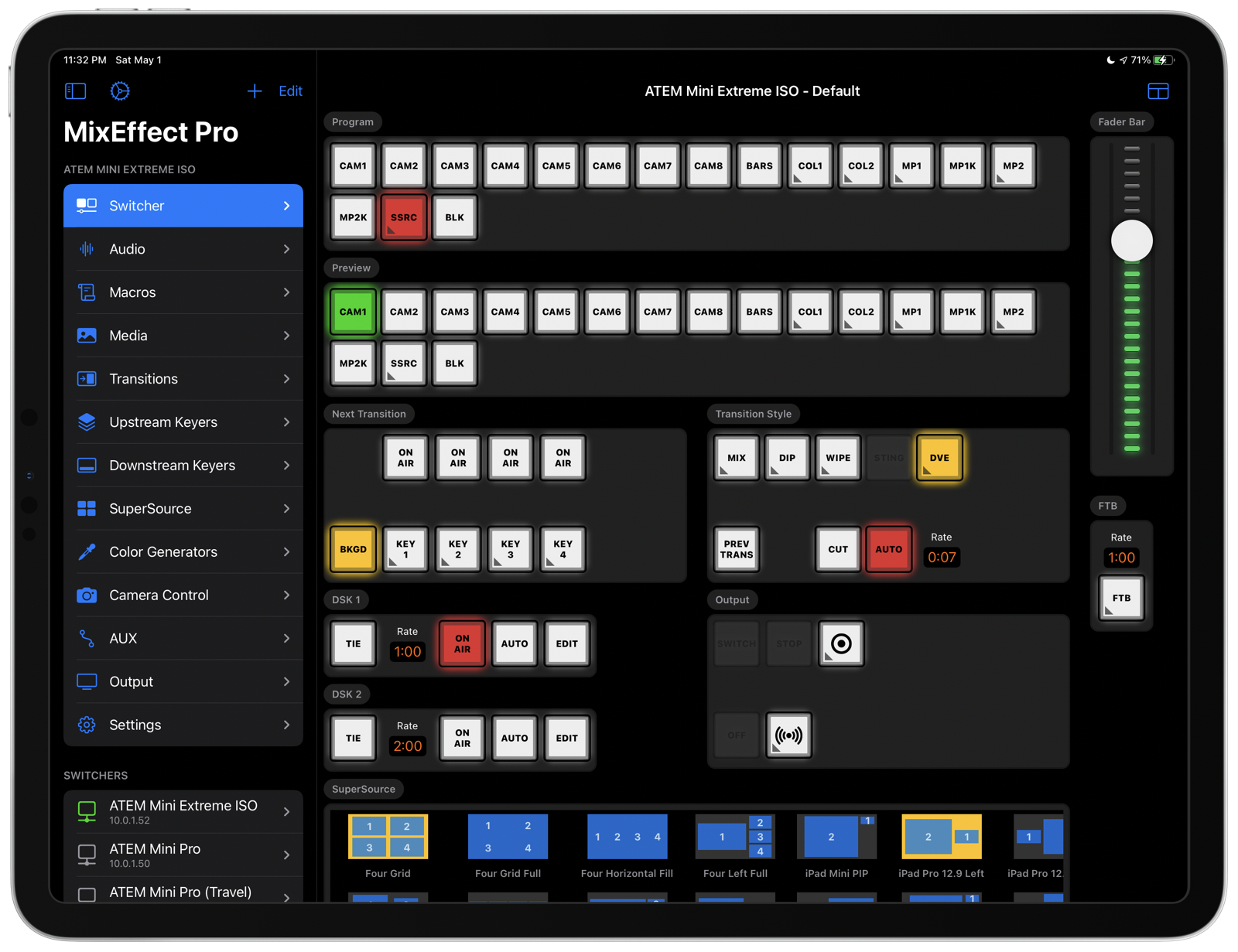 ---
Table of Contents
---
System Requirements
MixEffect requires the following:
iOS or iPadOS 14.1 or higher.
Blackmagic ATEM Switcher running version 8.3 or higher.
NOTE: Apple Silicon Macs can run MixEffect, but support is only given for use on iOS and iPad OS. Read the compatibility section for a list of known issues running MixEffect on Apple Silicon.
---
Welcome
The welcome screen will present itself the first time you run MixEffect. Tap Take the Tour to view a high-level overview of the features in MixEffect and MixEffect Pro.
---
Setup
When you install MixEffect on a new iOS device, you will want to connect it to your ATEM switcher.
Open MixEffect.
Tap the + button.
Choose New Switcher.
Enter a name for your switcher.
Enter the IP address for your switcher. This is the same address you use with Blackmagic's Atem Software Control application for macOS or Windows.
Tap Connect. When connected, the ATEM symbol image will change to the image of your ATEM switcher.
Tap Back or tap the switcher image to go directly to the switcher control section.
Once connected, you will see a list of available features in the MixEffect Home screen.
---
Features In-Depth
Here is an overview of the main features of MixEffect:
NOTE: Not all features are available on all ATEM switchers. Refer to your ATEM switcher to see if a feature above is supported.
---
Support
For technical support not covered in this documentation, follow these steps:
Go to the MixEffect Home.
Tap Settings (gear icon) in the upper-left.
Scroll down to the Contact section.
Tap Send Feedback.
Enter your support inquiry.
Tap Send.
---
Troubleshooting and Known Issues
For frequently asked questions about MixEffect, please visit the Troubleshooting section of the MixEffect Documentation.
---
Version History
Version 1.0.1: May 6, 2021. Initial release.
Version 1.0.2: May 11, 2021. The OSC and SuperSource Improvement release. See more.
Version 1.0.3: May 23, 2021. The SuperSource and Compatibility Improvement release. See more.
Version 1.0.4: May 28, 2021. Release notes.
Version 1.0.5: May 30, 2021. Release notes.
Version 1.0.6: June 14, 2021. Release notes.
Version 1.0.7: June 21, 2021. Release notes.
Version 1.0.8: July 4, 2021. Release notes.
Version 1.0.9: July 5, 2021. Release notes.
Version 1.0.10: July 12, 2021. Release notes.
Version 1.1.0: July 19, 2021. The Remote Webview release. Release notes.