MixEffect is a professional tool for controlling Blackmagic ATEM switchers from your iPhone or iPad.
MixEffect's familiar interface gives you quick access to virtually everything you need — from switcher control, macros, audio, media, editing palettes, recording and streaming — to run your video productions. MixEffect then turns the dial past ten with animated SuperSource transitions, Video Follows Audio, customizable layouts, Shortcuts support, and much more.
Manage your live productions confidently with MixEffect!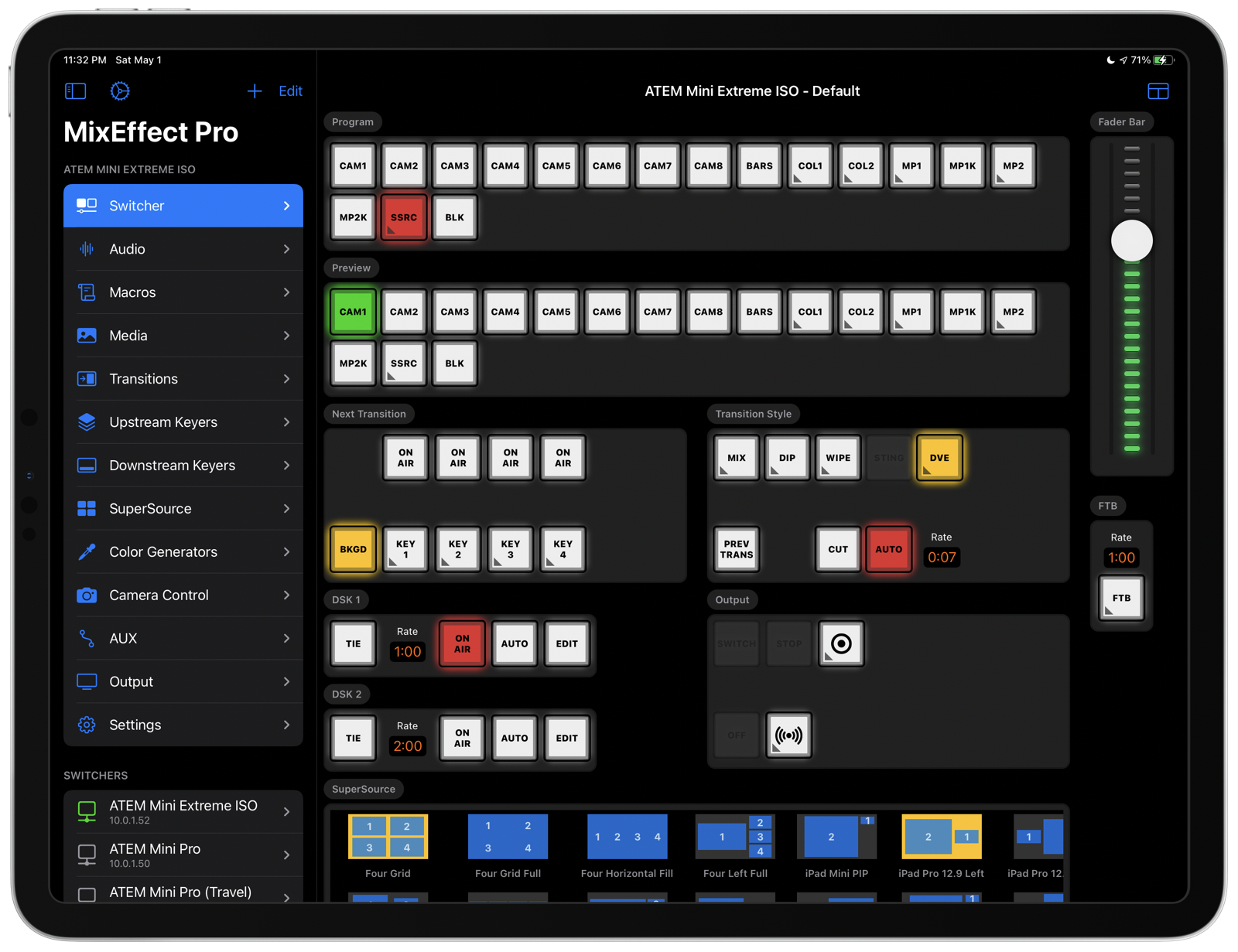 ---
Pricing and Availability
MixEffect is a free download from the App Store.
Features are limited to creating new switcher connection and streaming service entries, Program/Preview, Fader Bar control, and running the ATEM Simulator.
Unlock MixEffect Pro with a one-time payment* of USD$49.99. No subscriptions or hidden fees.
MixEffect offers a generous 30-day trial of MixEffect Pro so you can evaluate all of its features before deciding to purchase.
---
Join the MixEffect Mailing List to receive updates on MixEffect and to have an opportunity to beta test upcoming versions of the app.
---
Features
MixEffect is packed full of features to control your ATEM switchers. Unlock MixEffect Pro for even more power and functionality.
---
Switcher Management
Control multiple ATEM switchers. Sync your switcher settings between all of your iCloud-connected devices.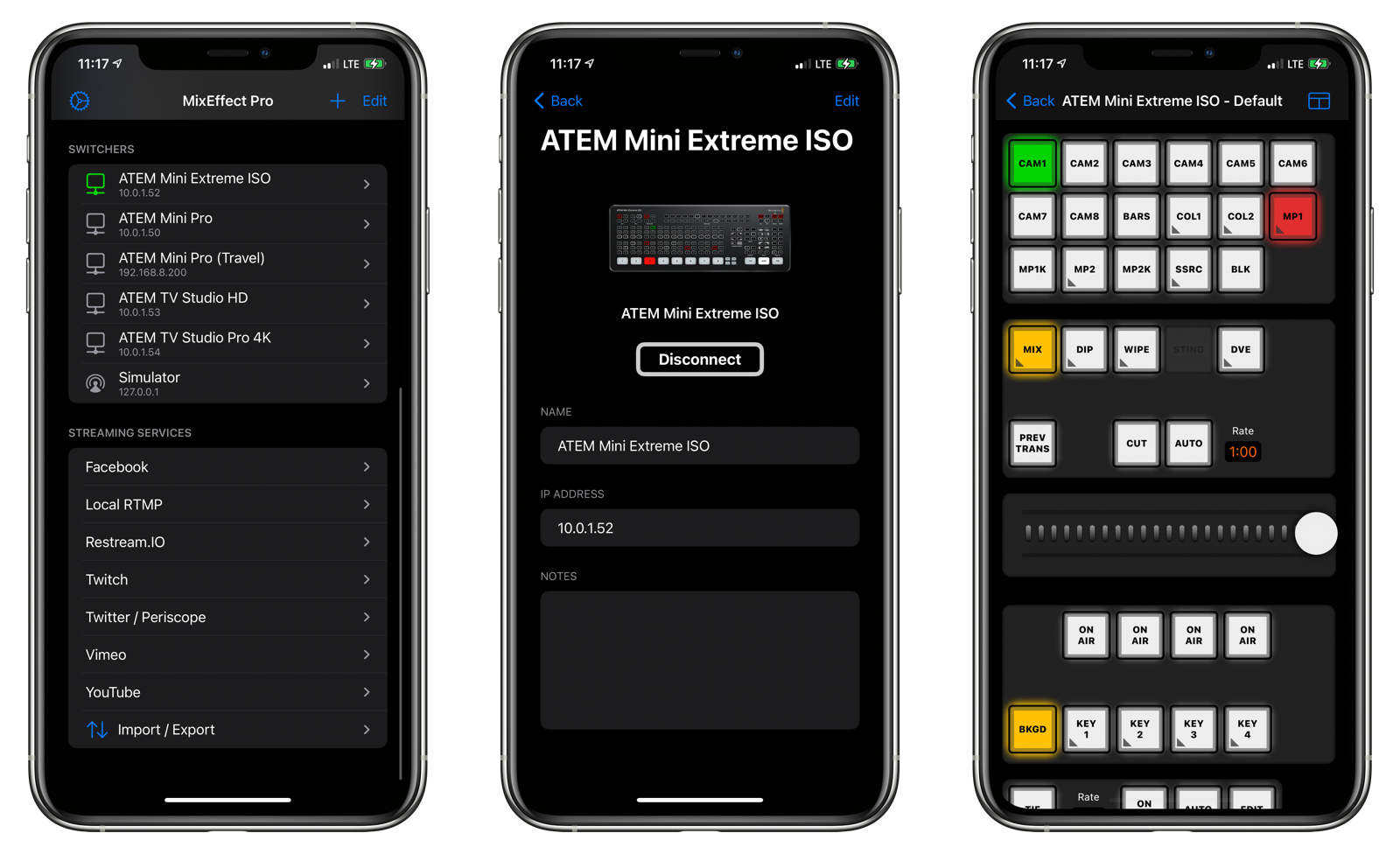 ---
Buttons
Access buttons and functionality missing from the ATEM switcher hardware, including:
Downstream Keyer: Perfect for ATEM Mini users.
Upstream Keyer: Switch between your Luma, Chroma, Pattern, and DVE keyers.
Macros: What's better than having 0 (ATEM Mini) or 6 (ATEM Mini Extreme) macro buttons? How about every macro being available to run at a tap's notice?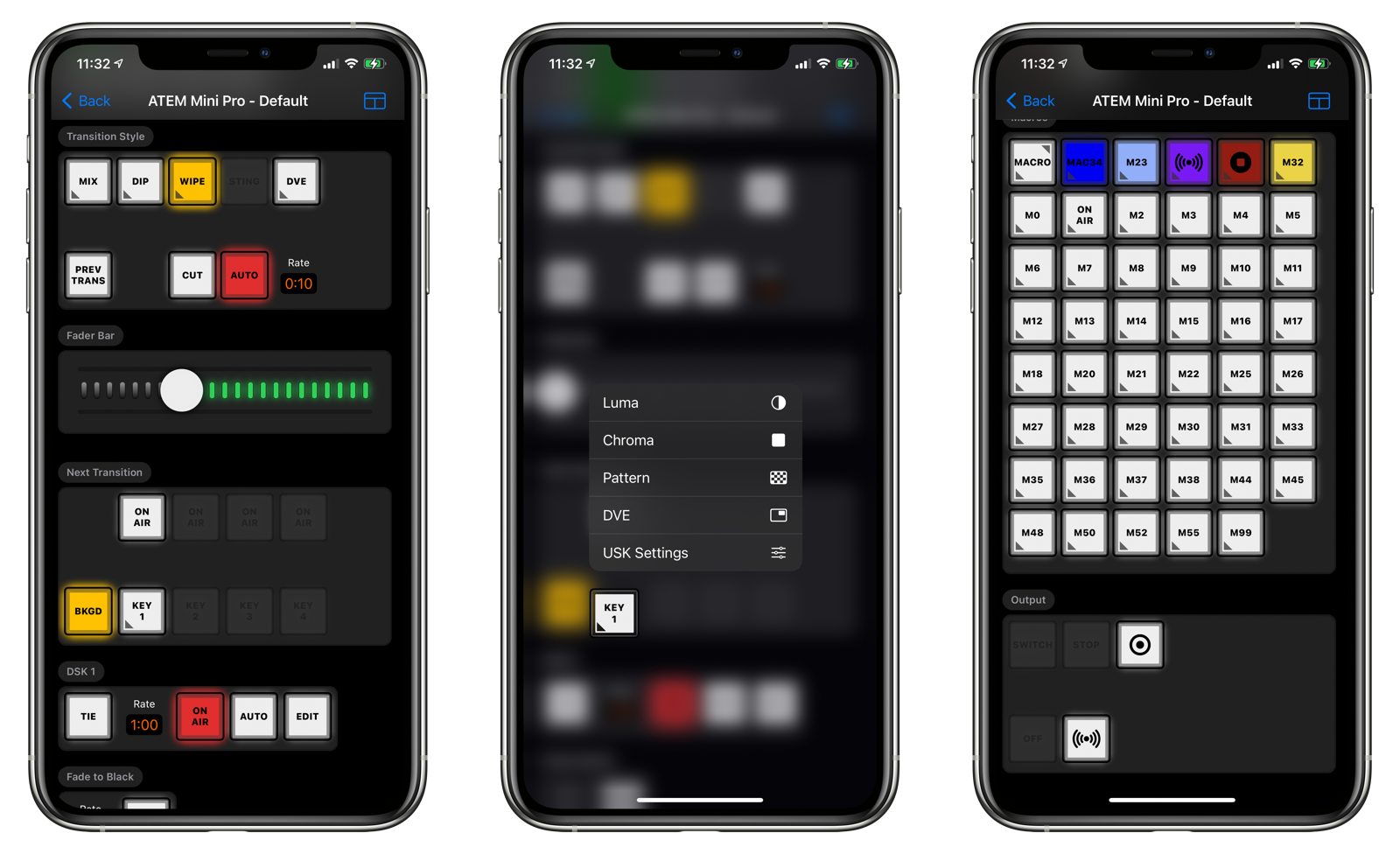 ---
SuperSource
MixEffect makes it easy for you to become a SuperSource expert on the ATEM Mini Extreme, ATEM Mini Extreme ISO, and the ATEM Constellation 8K.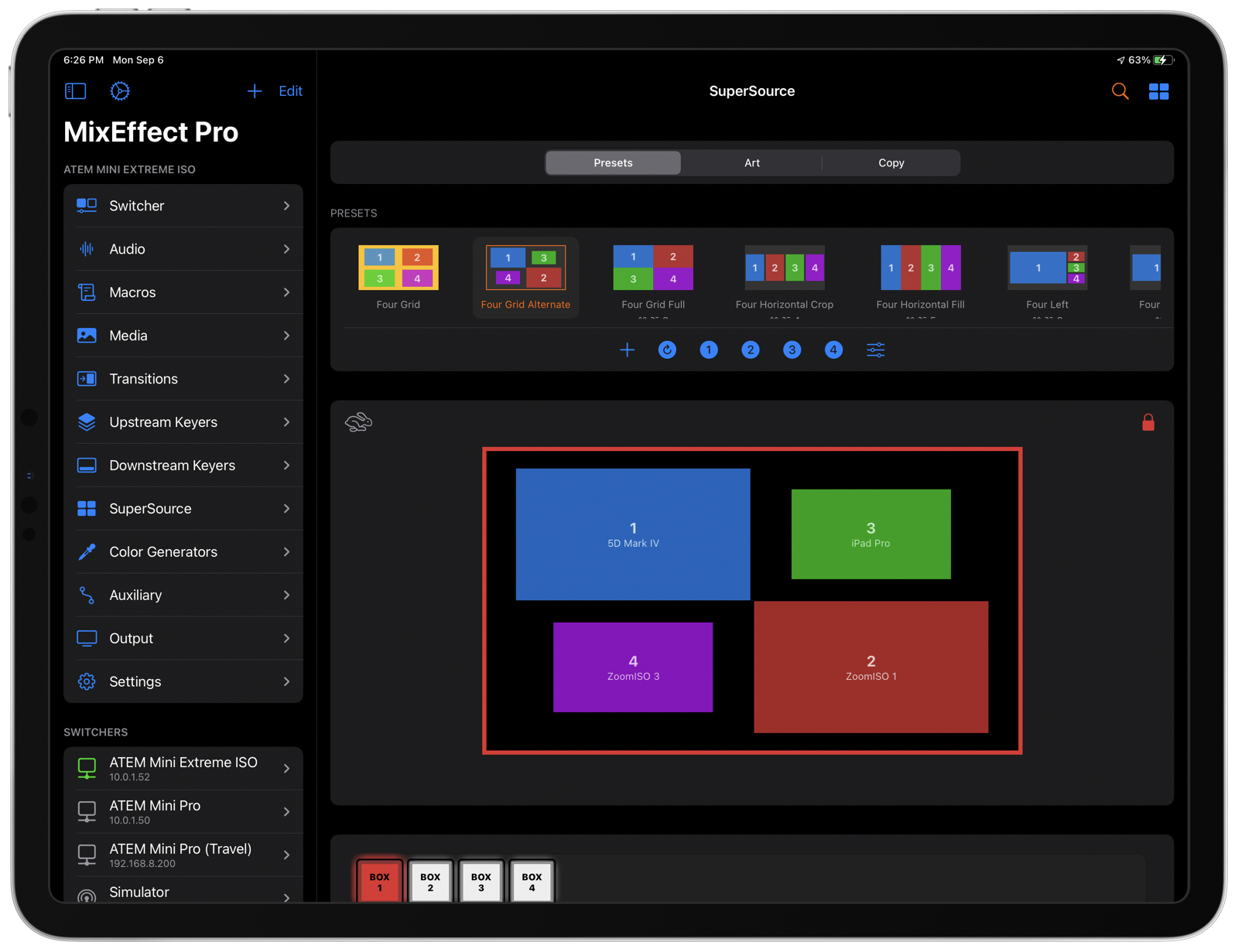 Enjoy beautiful transitions when switching between SuperSource layouts — no macros required. Use drag and drop to rearrange your boxes. Save your favorite preset layouts and share them with others. Run macros when recalling and exiting selected presets.
---
Companion and Stream Deck
MixEffect works with Bitfocus Companion and Elgato Stream Decks to provide fine control of your ATEM switcher via OSC.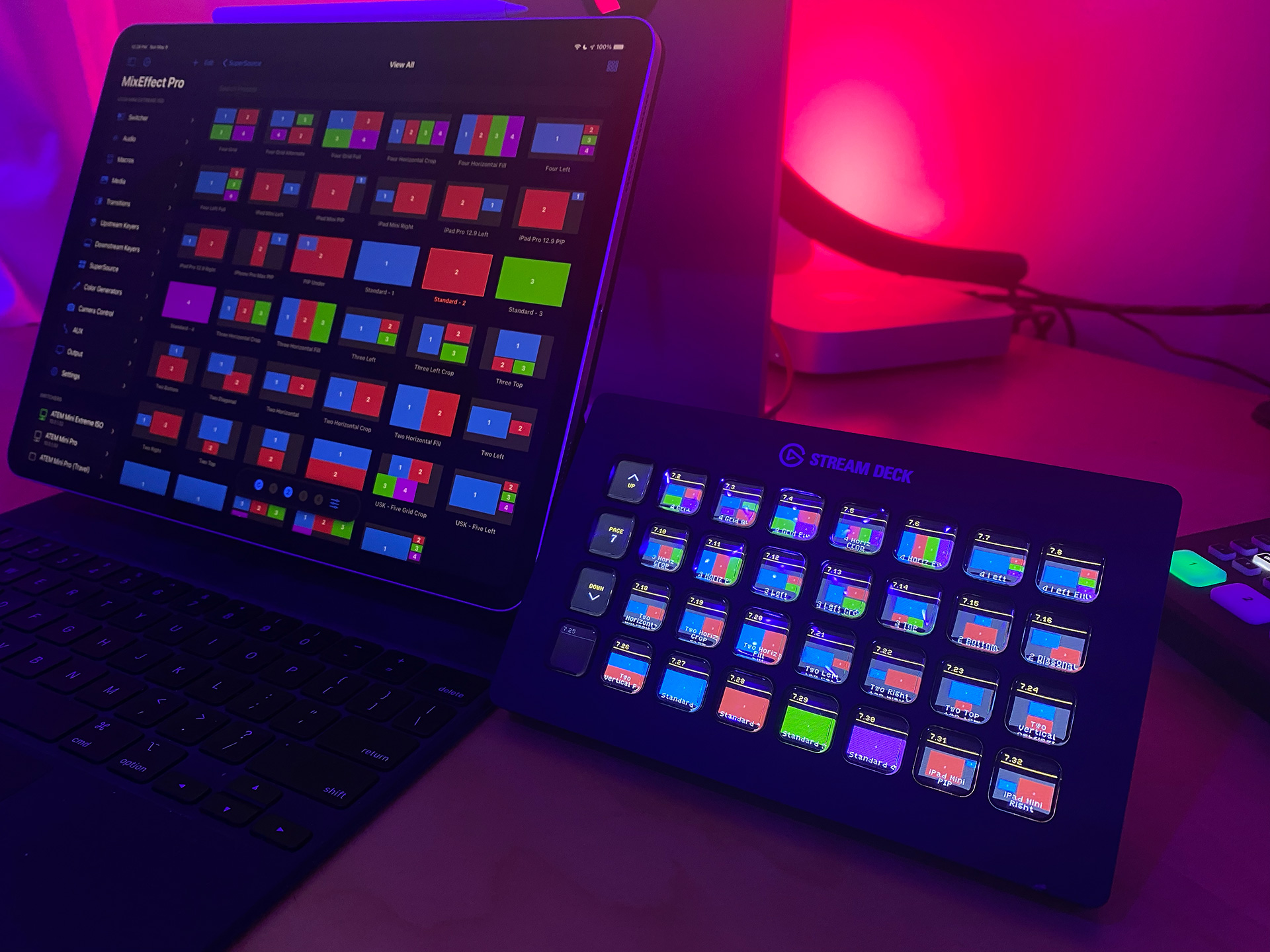 ---
Custom Switcher Pages
Create your own switcher pages that have the exact controls you need.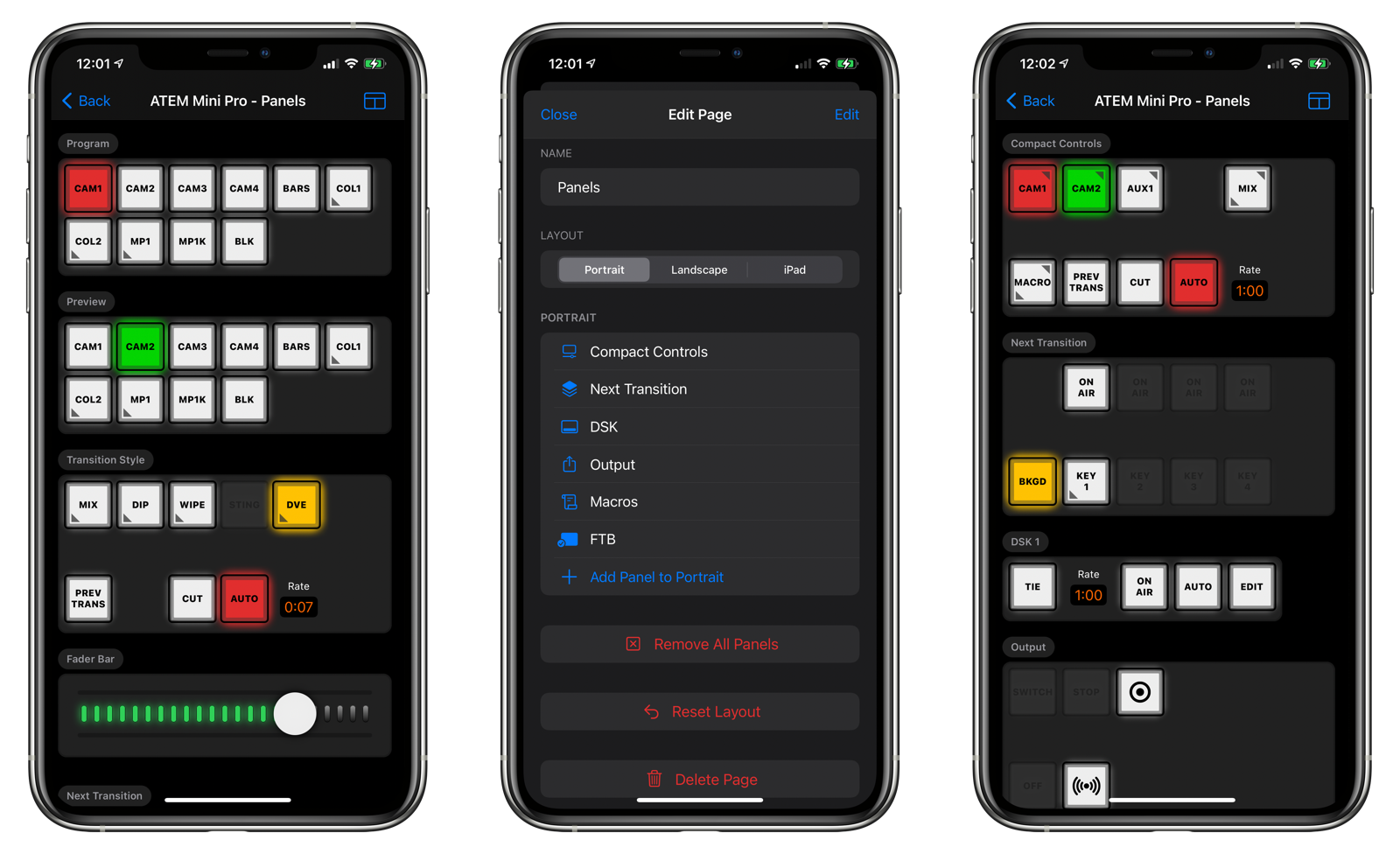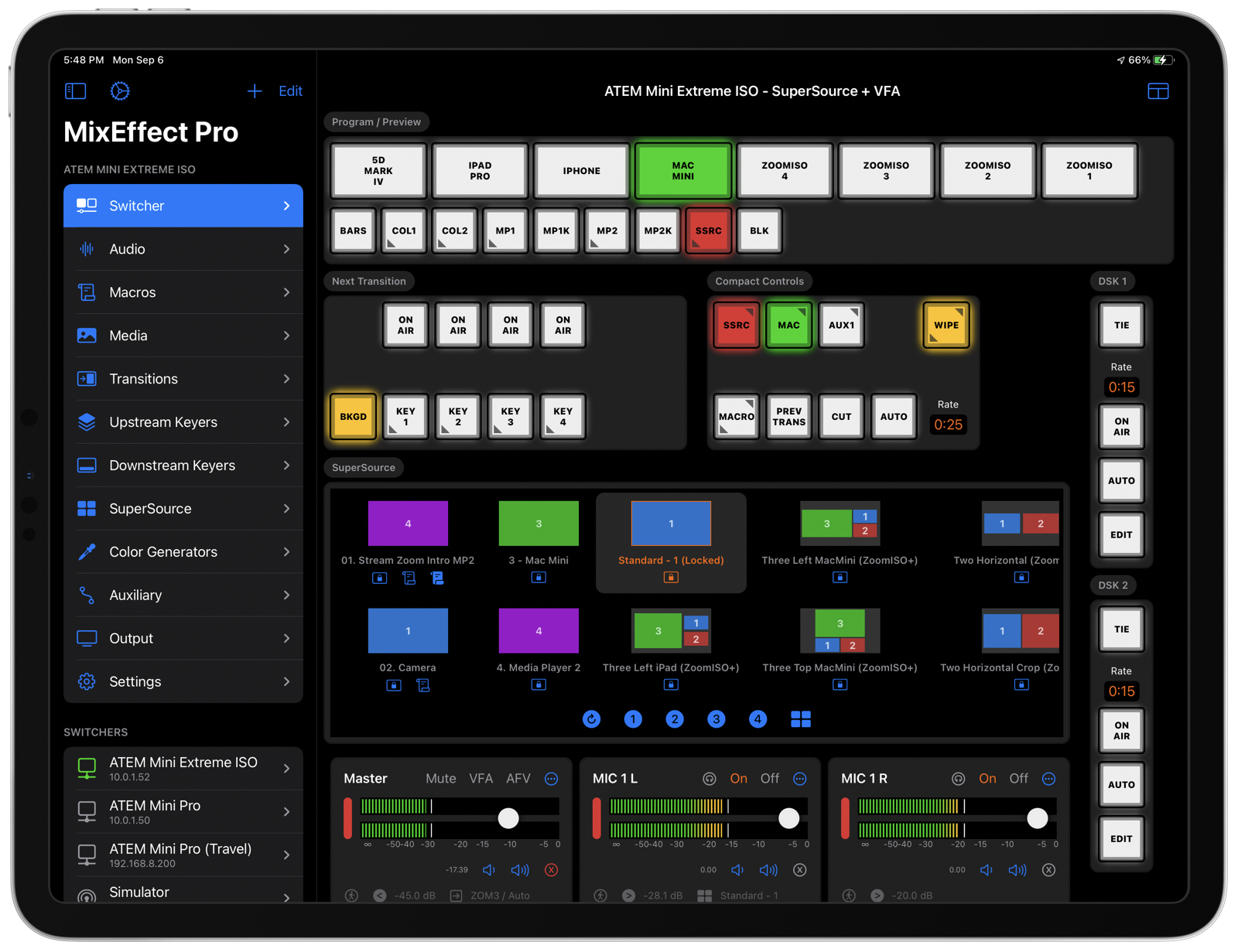 ---
Macros
Run any macro straight from the Switcher page.
With MixEffect Pro, you can organize and visualize your macros like never before.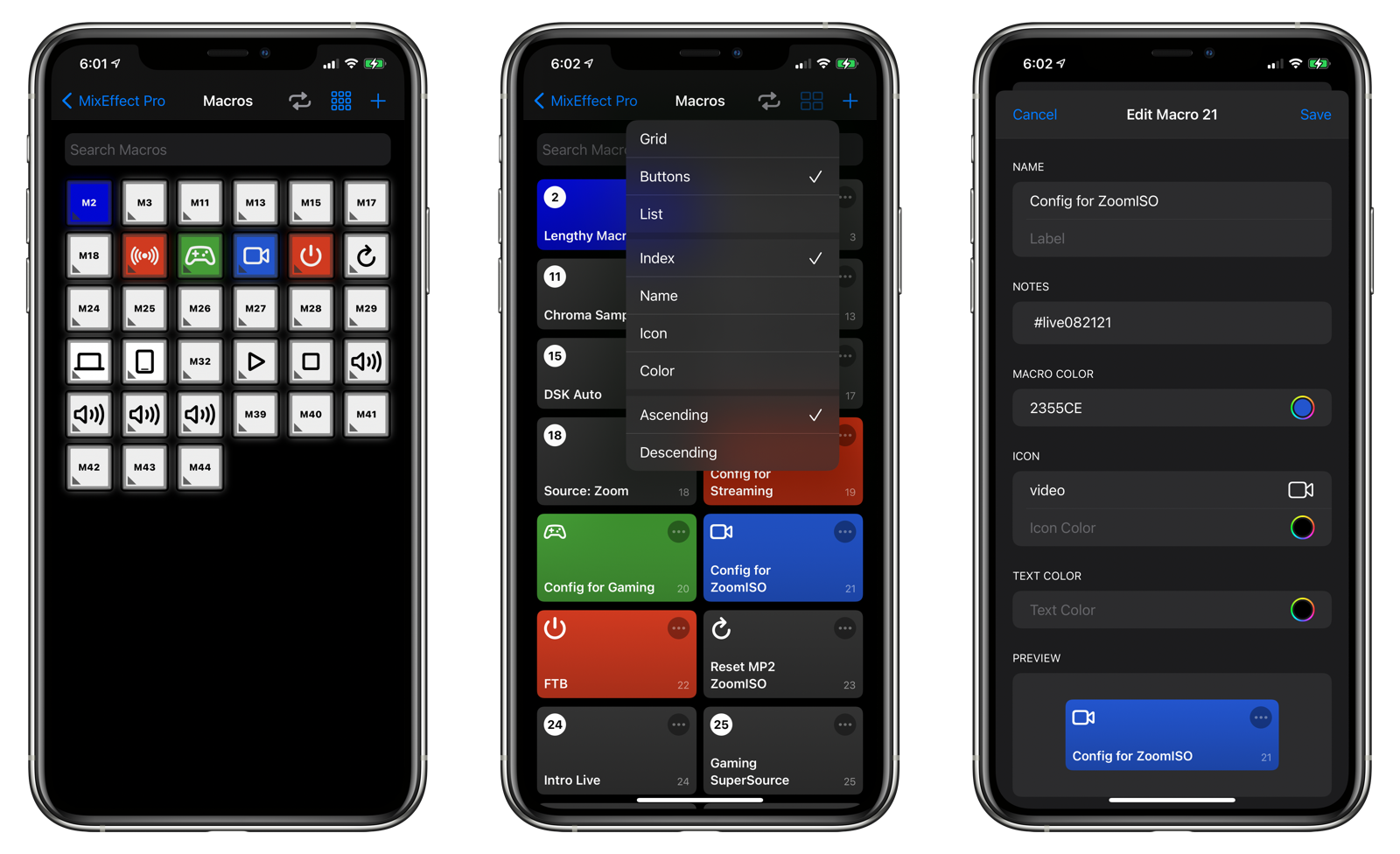 MixEffect adds the following features to each macro on ATEM switchers:
Color: Set your macro in any color imaginable.
Icon: Enter an SF Symbol to quickly identify your macros by sight.
Sort: Sort by index, name, color, or icon.
Search: Search and filter your macros. Show all your macros or just a subset on the switcher panel.
Record Panel: Floating panel makes recording macros easy and intuitive.
Run Panel: Floating panel makes it easy to stop or loop long-running macros.
---
Media
Upload still images from your iOS device straight to the media pool on your ATEM switcher.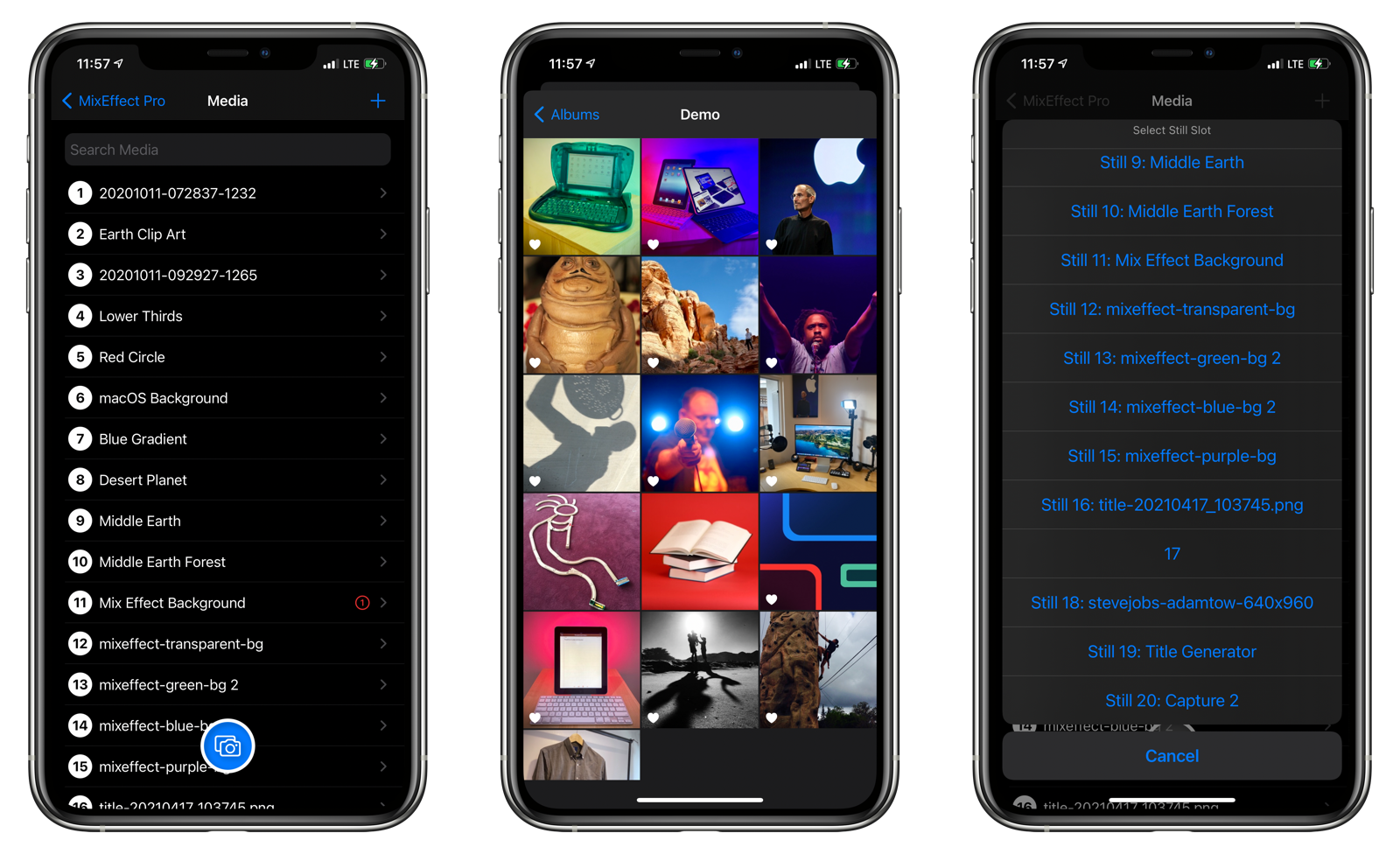 ---
HyperDeck
Control up to four HyperDecks from within MixEffect. Control additional ones using shortcuts.
---
Audio
Display real-time levels for every audio input. Adjust the gain, fader gain, frames delay, pan, and more.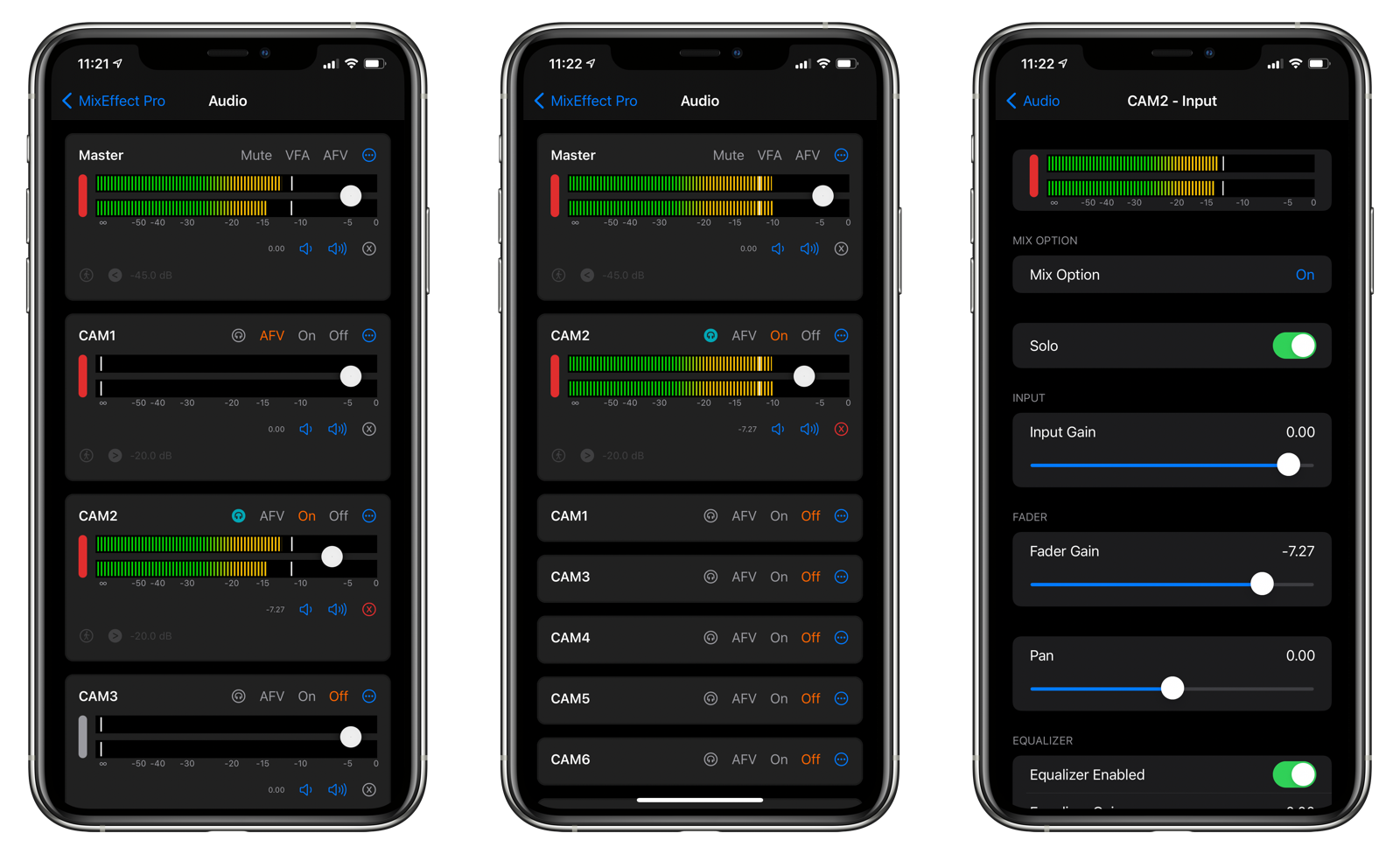 ---
Editing
Quickly adjust your transition, upstream key, downstream key, and SuperSource settings.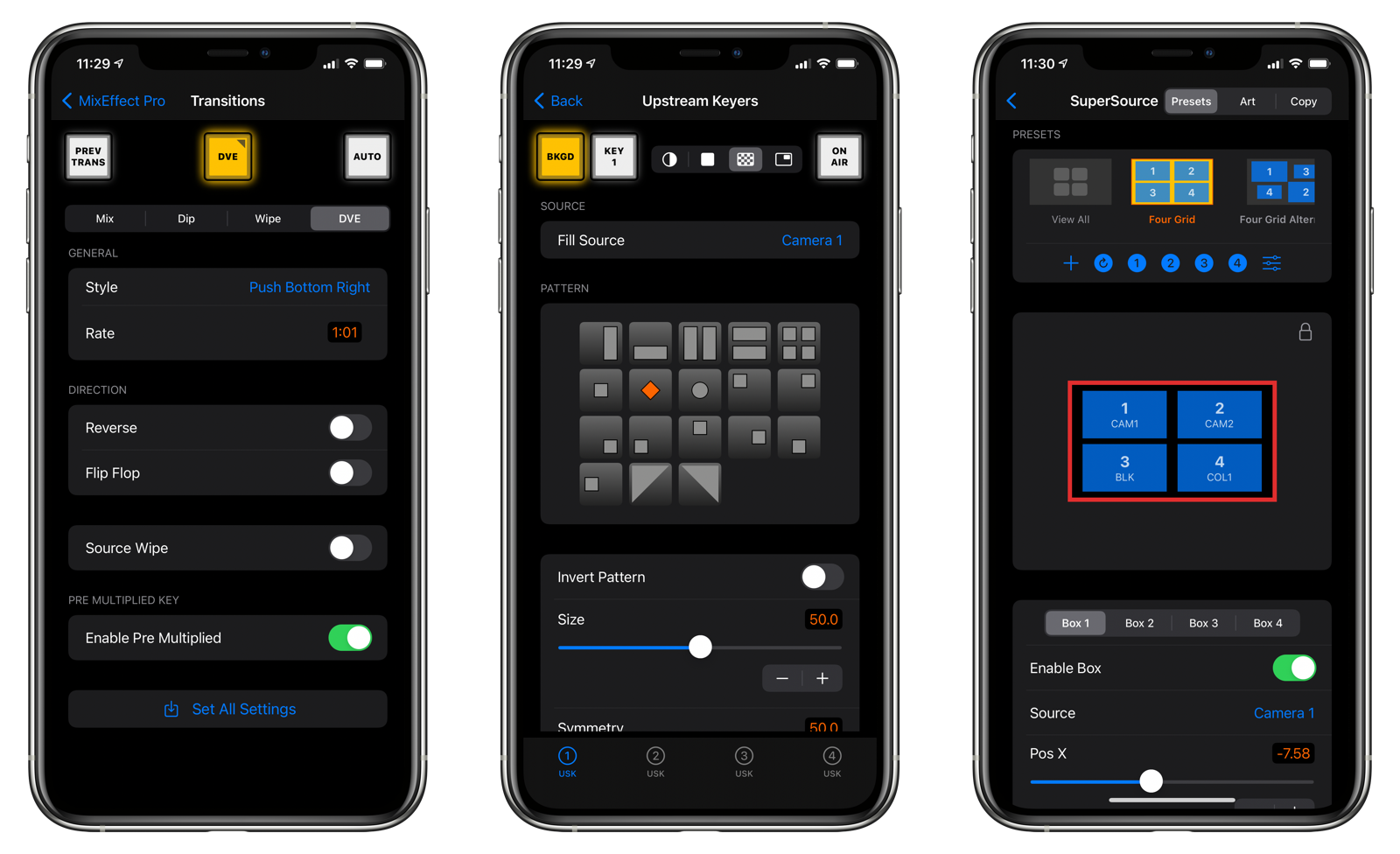 Long-Press Support
Some buttons support long-pressing to bring up additional options or to display the editing palette associated with the button.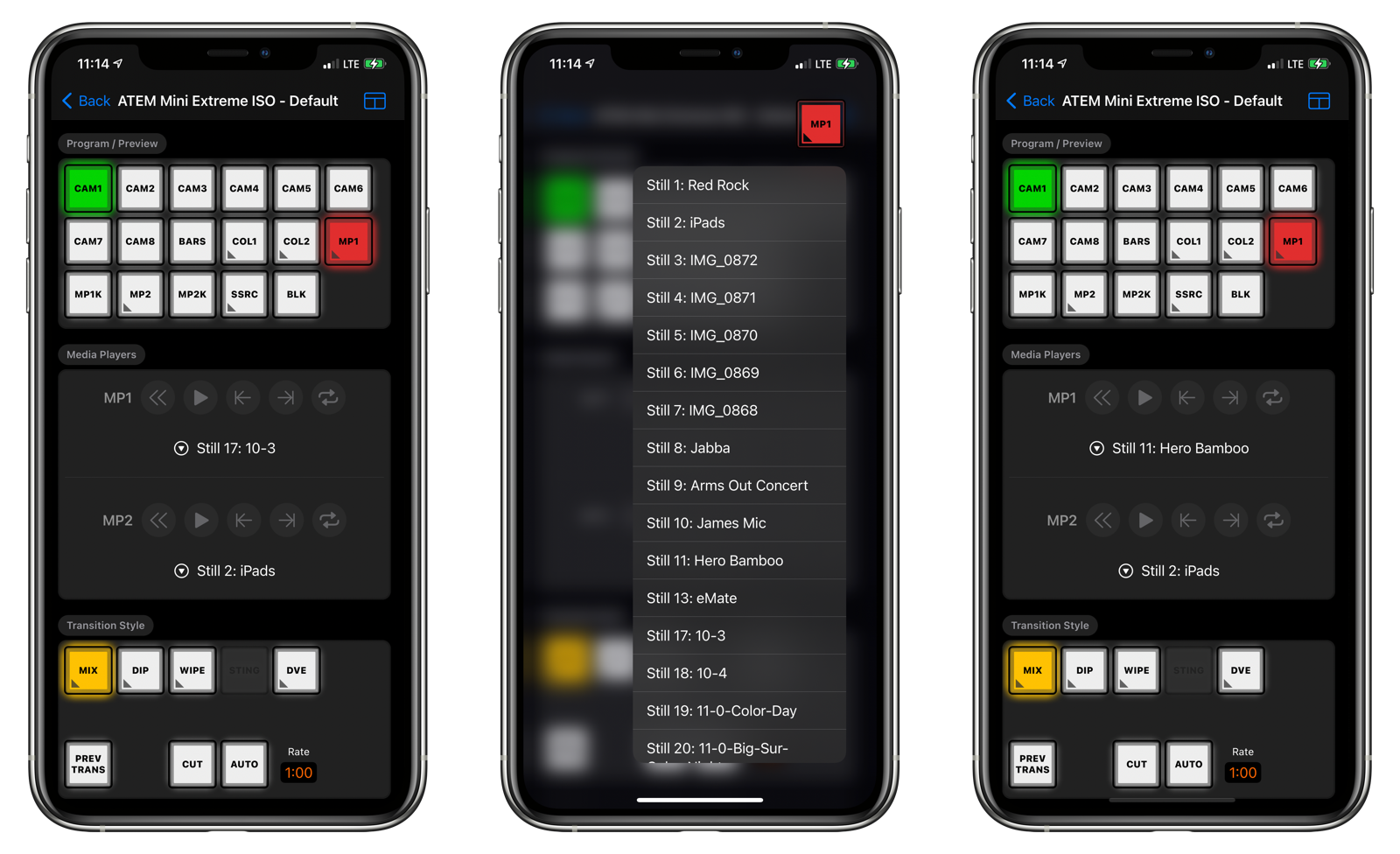 ---
Automations
Control your ATEM switcher with Siri and Shortcuts. Automatically switch your inputs when your audio levels reach a certain level with the Video Follows Audio feature. Enjoy extensive keyboard shortcuts support for selecting inputs, highlight SuperSource boxes, running macros, and more.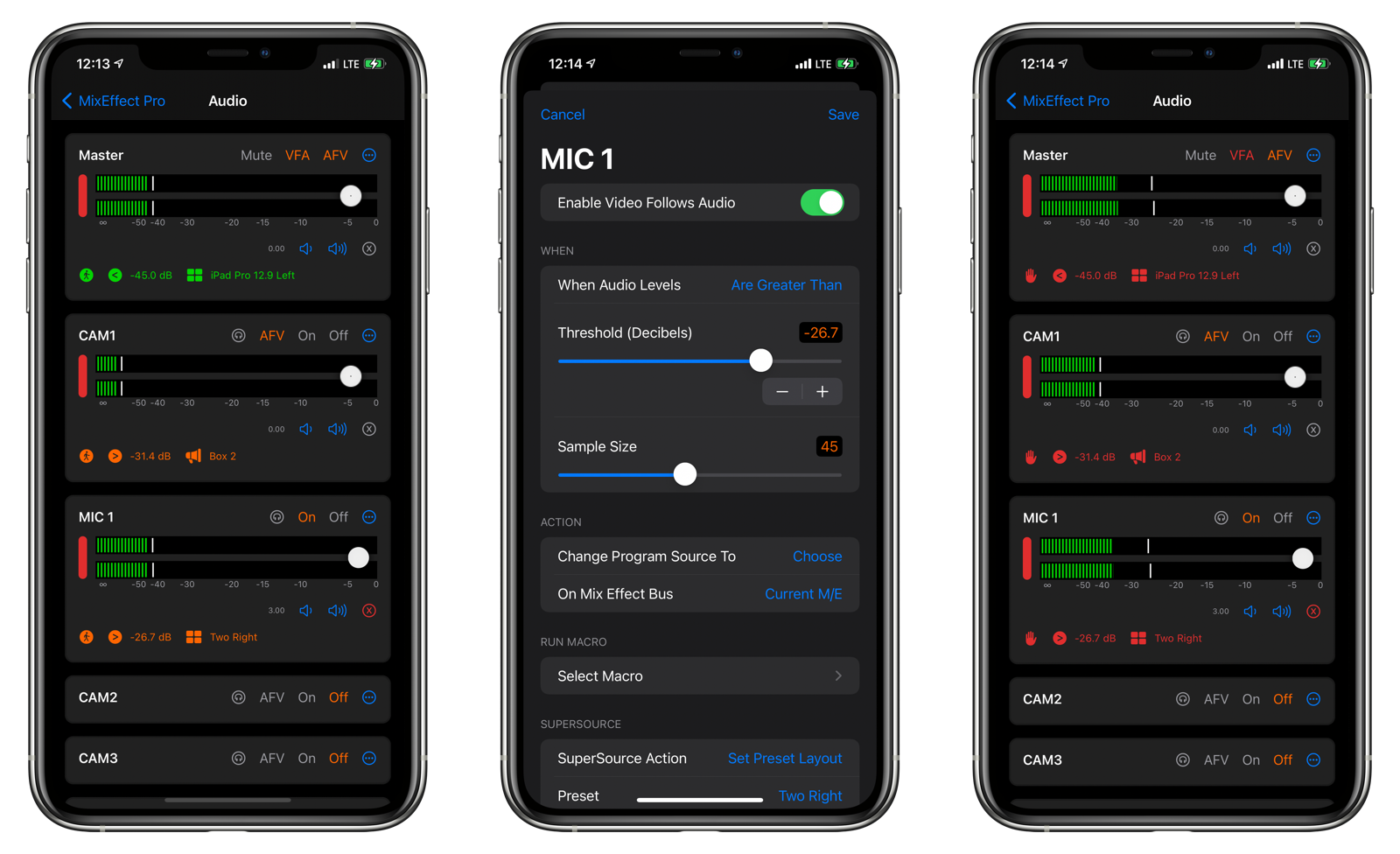 ---
Streaming
Organize your streaming destinations without having to edit XML files.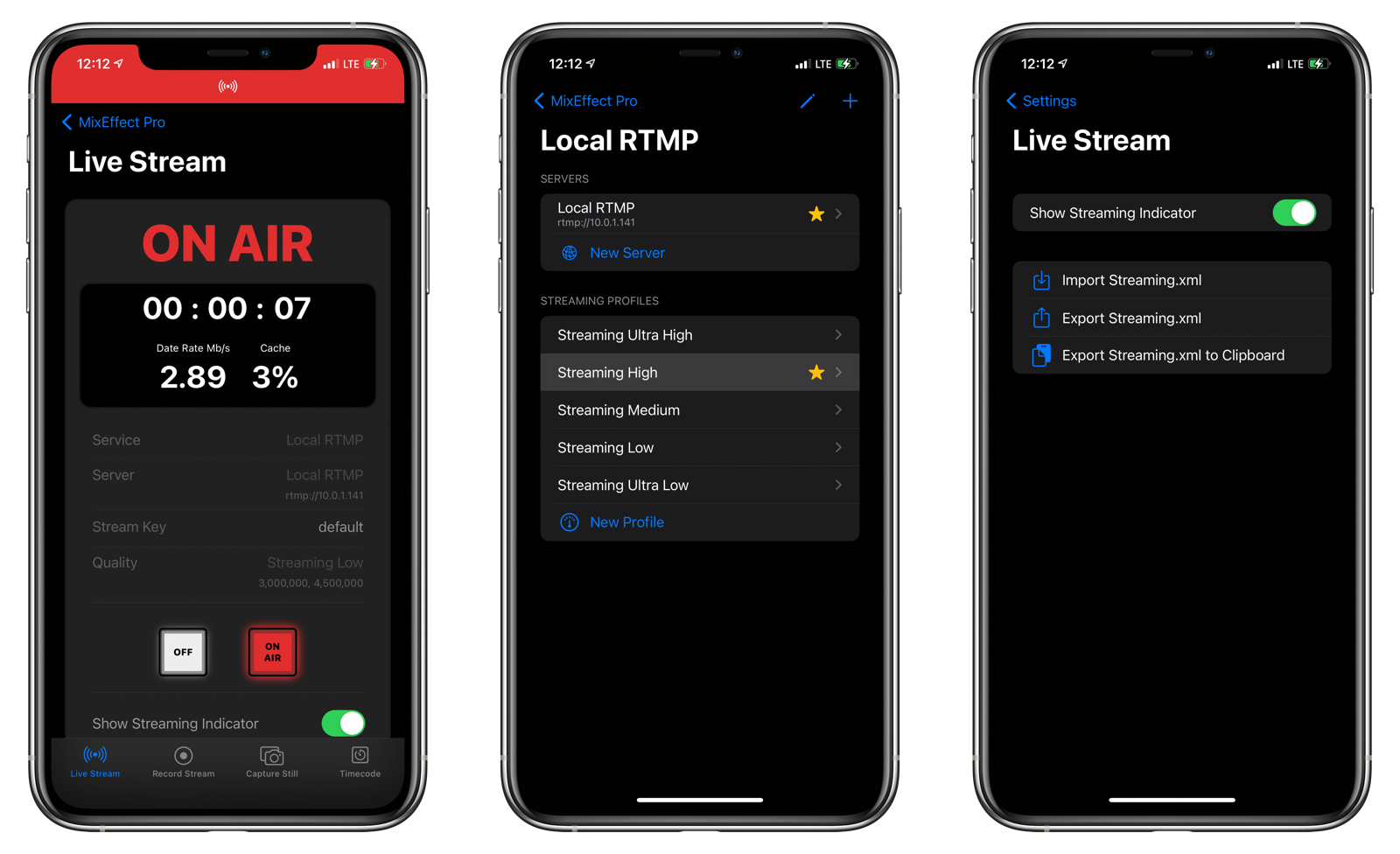 Settings: Adjust streaming settings like bitrate, audio bitrate, servers, and authentication for each service.
Stream Keys: Save your stream keys.
Defaults: Set a default profile and server to use for each service.
Export: Export your streaming settings for import into ATEM Software Control on macOS and Windows.
Import: Take an existing Streaming.xml file and import them straight into MixEffect.
---
Recording
Manage your disk recordings straight from MixEffect. Start and stop recordings, set the filename for recorded videos, and switch disks all from your iPhone or iPad.
---
Auxiliary
Set the source for each of your Auxiliary outputs.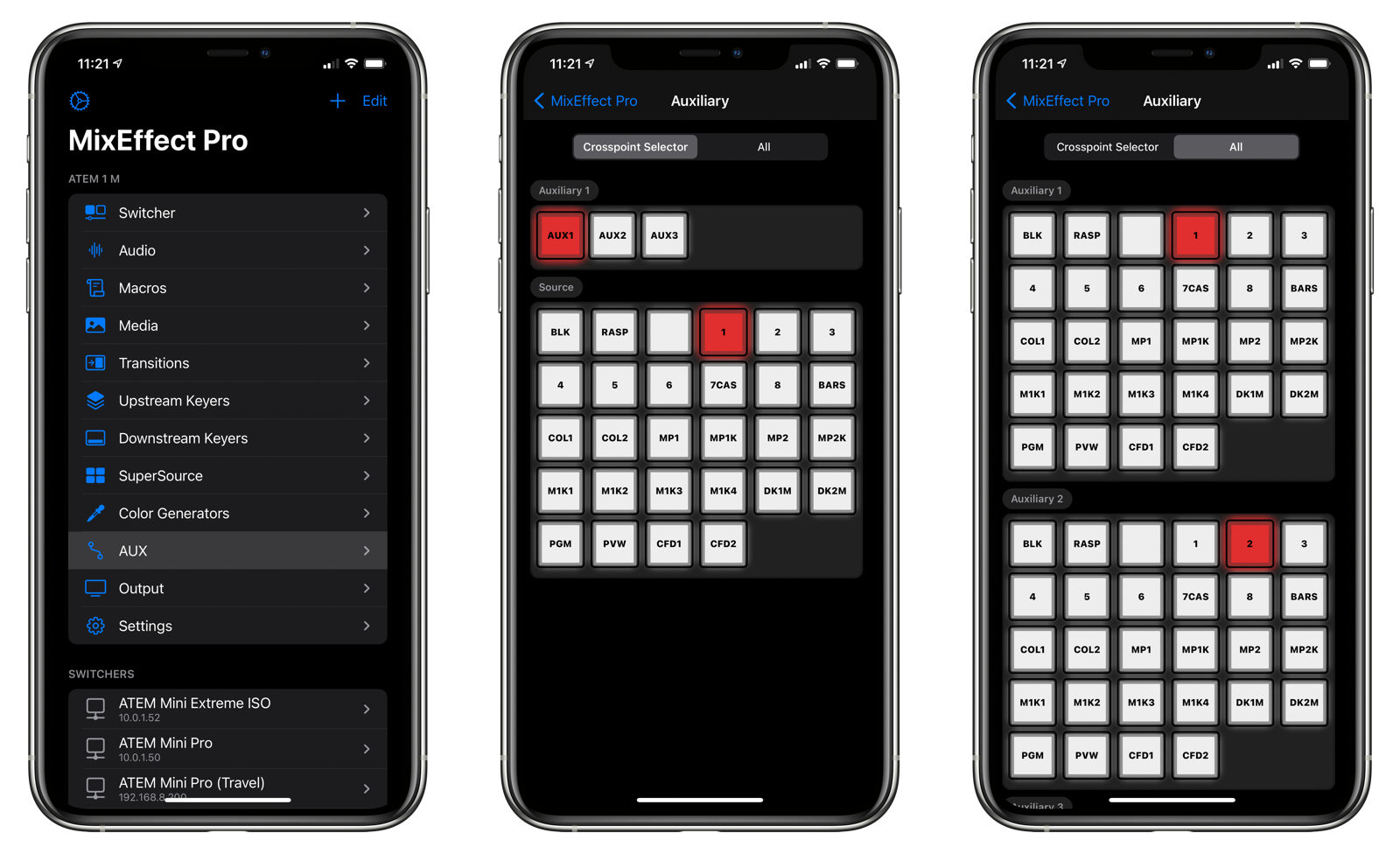 ---
Color Generators
Adjust the colors of your Color 1 and Color 2 inputs.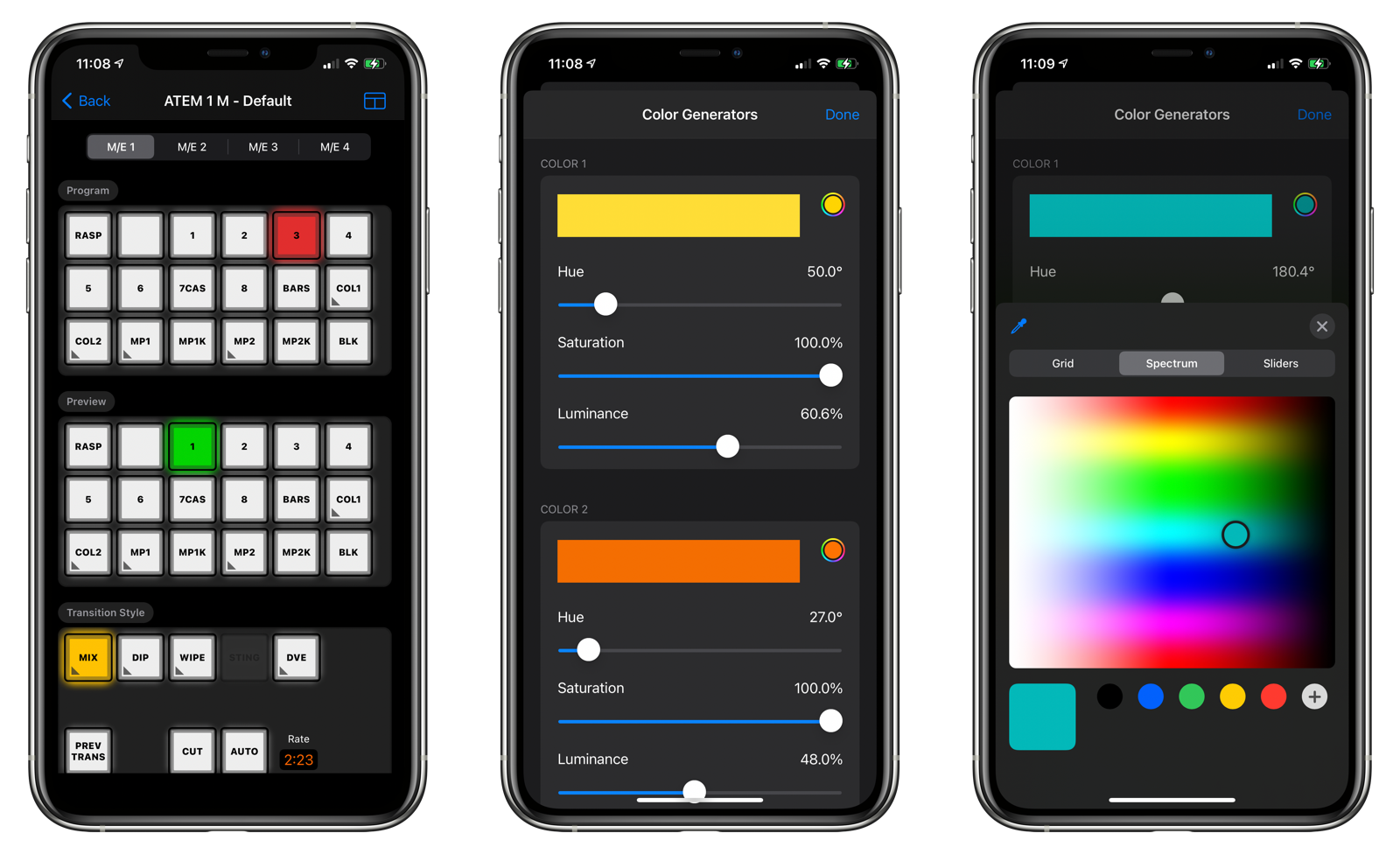 ---
Simulator
Don't have an ATEM at the moment? Test out the interface using the built-in ATEM simulator.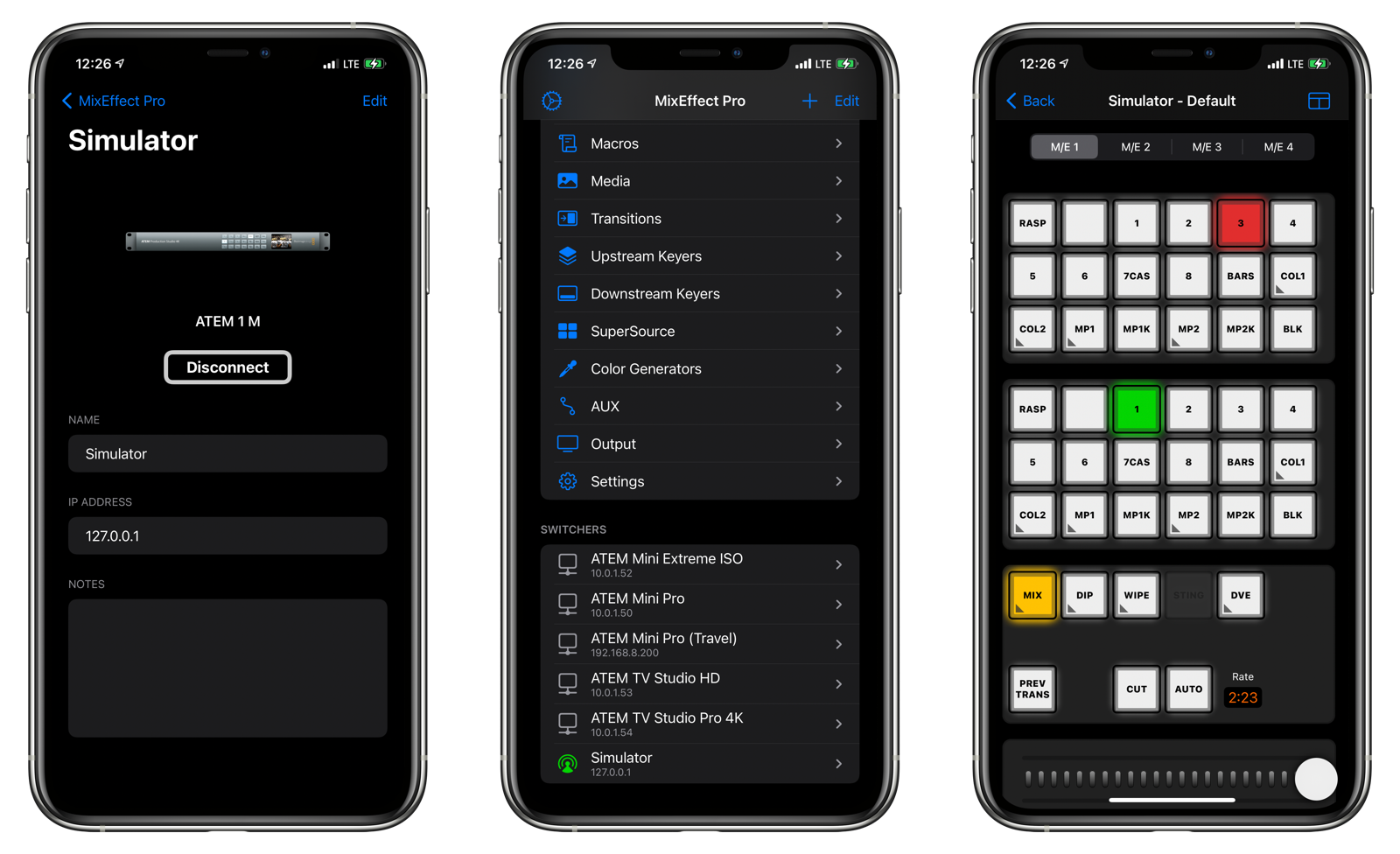 ---
Switcher Settings
Video Mode: Change the output video format of your ATEM Switcher.
Audio Settings: Split audio, switch between line and mic, and set audio follows video settings.
Multiview: configure your Multiview straight from MixEffect.
Source Labels: Adjust the labels of each input source.
Delete All Macros: A convenient function to have to clear out your macro library.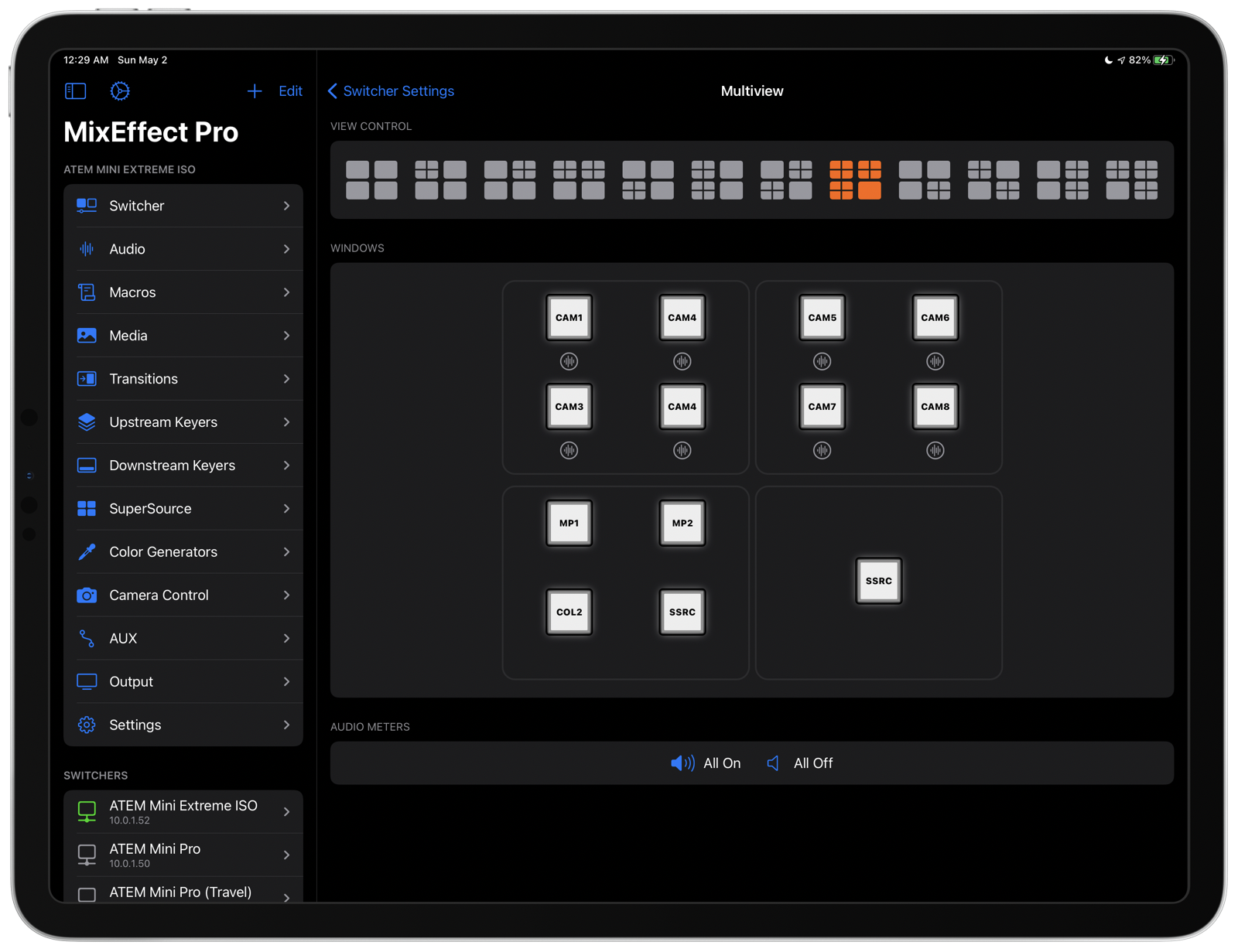 ---
MixEffect App Settings
Haptic Feedback: Control the fader bar with precision using your finger. Feel the buttons as you switch your inputs or run your macros.
View Only Mode: Allows you to see but not change any settings on your switcher.
App Icon and Custom Accent Color: Make MixEffect your own with custom accent colors and app icon.
Lock with FaceID: Prevent others from accessing your switcher with FaceID and passcode protection.
Visit the MixEffect Documentation site for complete details on how to use MixEffect.
---
Price shown is for US App Store. Other countries may display different pricing based on tax and exchange rates.